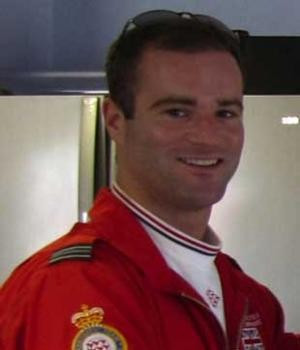 Thousands of people at the Bournemouth air show watched in horror as a RED Arrows pilot was killed Saturday when his plane crash landed at the show. The pilot steered his Hawk jet away from houses seconds before it plunged to the ground.
Jon Egging, 33, known as Eggman was an Afghanistan Veteran Flight Lieutenant. He was a pilot of the Elite RAF aerial display team's Red Arrow Four. He started with the Red Arrows last Autumn.
There was a family theme park, an airport, residential streets and a shopping centre nearby as he steered his jet away from all these and crash landed, saving a lot of lives.
He didn't eject from the plane but was finally thrown out into a river as it crashed on a field.
Gas fitter Keith Charles, 60, who lives just yards from the crash site, said: "It looks like the pilot steered away to miss the village. It's a terrible tragedy. The pilot is a hero. I didn't hear a thing - we think the engine had been switched off".
Peter Male, a localite whose brother owns the land on which the jet crashed, said: "The pilot tried to eject but it must have been too late.
The parachute was in the river and a man jumped in with a friend to try to save the pilot. But when they pulled the chute out they discovered nothing was attached to it.
Sadly, Egging was pronounced dead at the scene.
Flt Lt Egging lived in Rutland, Lincolnshire, with wife Emma and joined the RAF in 2000.
Last night, Emma, who was at the show, said: "Jon was everything to those that knew him, and he was the best friend and husband I could ever have wished for. Watching him today, I was the proudest I've ever been.
"There was nothing bad about Jon. I loved everything about him and he will be missed."