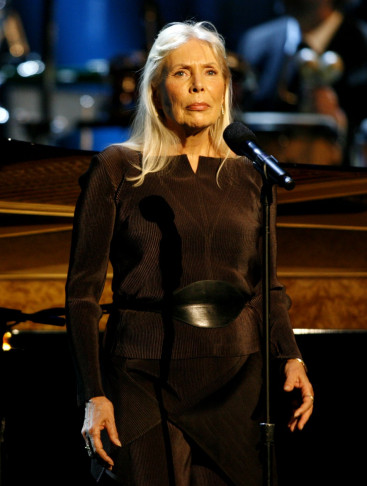 Singer Joni Mitchell is "making good progress" following a stroke and brain aneurysm, her friend and fellow singer Judy Collins has said.
In a post on Facebook, Collins claimed a friend had confirmed that Mitchell was finally on the road to recovery."I have just heard from a close mutual friend that Joni is walking, talking, painting some, doing much rehab every day, and making good progress," she wrote.
She added : "I have another friend who went through something similar – it does take a long time, three years for my friend, who has really totally recovered professionally and personally. I will try my best to see our songbird when I am in LA in the coming weeks. So – some good news!!"
Mitchell, 71, was taken to hospital 31 March after being found unconscious on the floor of her Los Angeles home. In April her representatives dismissed a TMZ report that she had slipped into a coma. "She comprehends, she's alert, and she has her full senses. A full recovery is expected," a statement on her website read at the time.
However, conflicting reports continued and in June, singer David Crosby – who dated Mitchell in 1967 – told the Huffington Post: "She took a terrible hit. She had an aneurysm, and nobody found her for a while. And she's going to have to struggle back from it the way you struggle back from a traumatic brain injury."
The eight-time Grammy winner is known for a variety of hit songs, including Both Sides Now, The Circle Game, Free Man in Paris, Big Yellow Taxi and River. She was inducted into the Rock and Roll Hall of Fame in 1997. Her last album of original music, Shine, was released in 2007.