Jose Mourinhho explains why Marouane Fellaini was his best bet to salvage a point against Liverpool
The Belgium international came off the bench and was involved in the equaliser.
Manchester United manager Jose Mourinho felt introducing Marouane Fellaini off the bench at the expense of Marcus Rashford was his side's best hope of rescuing a point against Liverpool.
Zlatan Ibrahimovic's equaliser with just six minutes of the match secured a 1-1 draw for United on Sunday (15 January) having toiled for large parts of the game against Jurgen Klopp's side following James Milner's opener from the penalty spot.
Having already made two changes, Mourinho's last roll of the dice was to bring on Fellaini for Matteo Darmian. Fellaini's introduction off the bench prompted boos from sections over the Old Trafford support in a Premier League match against Tottenham last December, but the Belgium international was directly involved in the equaliser on Sunday, hitting the post in the build-up to the goal before Ibrahimovic headed home.
Speaking to Sky Sports after the draw, Mourinho revealed he had mulled over bringing on 19-year-old Rashford. But after looking at Liverpool's own options on the pitch and on the bench, the United boss felt Fellaini's presence in the air was his best chance of salvaging something.
When asked if the plan was to go more direct in the second half, Mourinho said: "With Marouane, yes. I had Rashford to play, I had a doubt between Rashford and Marouane, but I felt Liverpool was playing very defensively, they were all behind (the ball)."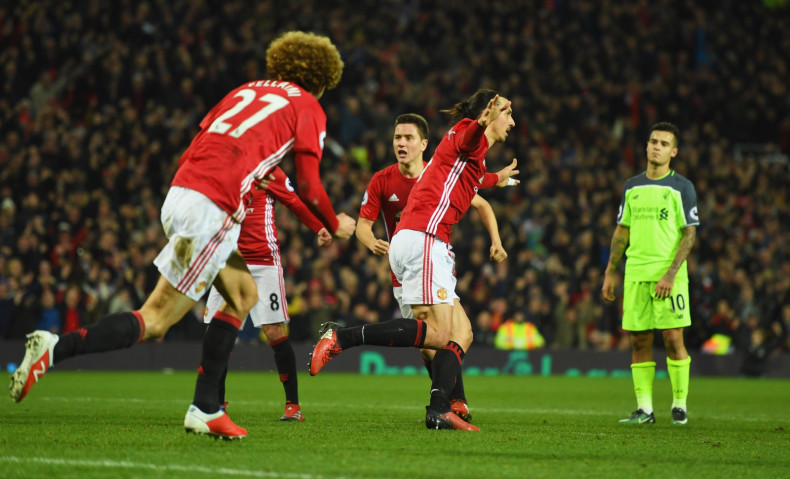 I looked to the bench, I didn't see any one who could help them to cope with one extra player in the direct play so I decide to go with Marouane to put more pressure on them which we did. We had chances, we scored a goal."