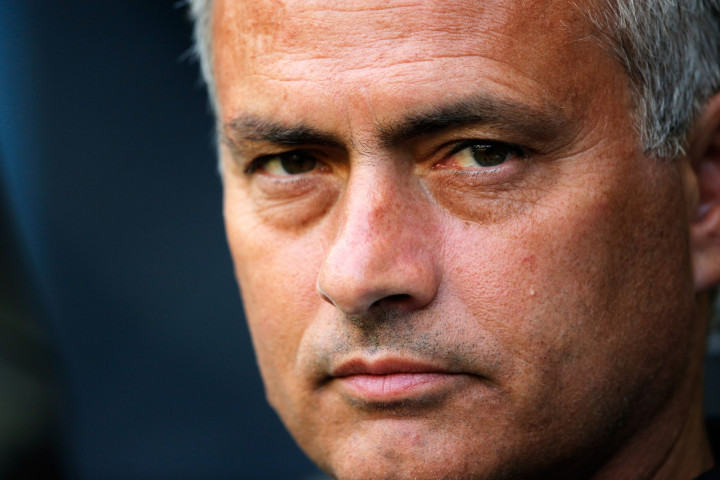 Chelsea manager Jose Mourinho has sent the club's Premier League title rivals Arsenal, Liverpool and Manchester City an ominous warning after claiming his club are equipped to deal with any situation this season.
The Blues have made an unbeaten start in the Premier League this season and have already opened up a five-point lead over champions City after seven matches, following the 2-0 win over Arsenal last weekend.
The additions of Diego Costa, Filipe Luís and Cesc Fàbregas, as well as the return of Thibaut Courtois following a three-year loan spell at Atletico Madrid, have made the Chelsea squad as formidable as any in the top flight.
The Portuguese boss has now admitted his Chelsea squad is armed to contend with any adversity they may encounter this term, in a stern warning to Arsenal, City and Liverpool who all have ground to make up in the title race.
Adaptable Chelsea
"I am happy with everything," Mourinho told the Evening Standard. "In this moment our team are able to adapt to everything. What the game gives us, we can cope with.
"We are not the kind of team that play only the same way, think the same things. We can play in a different way and adapt to different situations.
"When teams have the ball we are comfortable, when we have the chance to pass and touch the ball, we are comfortable. When we play in counter-attack, we are comfortable. In this moment the team are mature and confident and I'm very happy."
An embarrassment of riches in all positions is perceived to be Chelsea's greatest asset as they attempt to fight on four fronts this season.
Despite the resources available to Mourinho, he is convinced his entire squad are united behind Chelsea's philosophy, making reference his ability to bring in the likes of John Obi Mikel and Petr Čech into his first team without losing any quality.
United philosophy
"People on the bench are also coming on strong, the way they are playing, the way they react," he added. "Mikel comes on and gives stability to the team. I think we're in a good moment.
"When I play Mikel, I don't need to say something to Nemanja Matić or Fàbregas or to the team. They know what is going to happen, what the team are going to do, they know what Fàbregas can give us when he then plays as a number 10 rather than a number 8. The team is very solid.
"Only we can lose a keeper and not panic. We lost a keeper and the panic was just what the kid [Courtois] has suffered.
"But as for the football panic and talk of 'Oh my God what is going to happen?' — the other one [Čech] just come comes and no one in the seats feels any fear because we know the big guy is there for us too. Petr is so solid, so confident, so under control so we are fine."