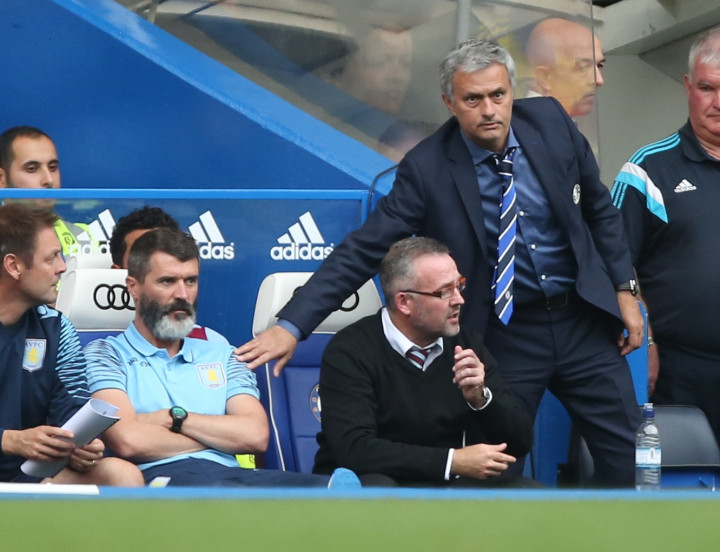 Aston Villa assistant manager Roy Keane has branded Chelsea boss Jose Mourinho a disgrace and picked Pep Guardiola as a better manager to play under.
Mourinho infuriated Villa manager Paul Lambert and his assistant Keane when he went to shake their hands before the end of the game between the Blues and the Villans. Chelsea were leading at that point and went on to win the game, but his action left a sour taste in the mouth of his opponents.
With both the Villa managers refusing to shake his hand, Keane has branded the Portuguese manager's actions a disgrace. He also revealed that he has seen Mourinho do it to other managers in the Premier League and believes that if he tries the same stunt in the Sunday League, he risks getting 'knocked out'.
"I don't mind all that but the game is still going on. It's disgraceful, I've seen him doing it to other managers, it's a disgrace," Keane said, as quoted by the Mirror.
"The game is still going on. You wouldn't do that on a Sunday morning, you would get knocked out."
The former Manchester United skipper also admitted that as a player, he would not have liked to play under the former Real Madrid boss as he plays one too many mind games with the media.
"I'm not sure that I'd have liked playing for him. He plays too many games with the media," the Republic of Ireland international added.
"I understand the need for games but there comes a point when you think, 'Don't play mind games today'. And poking the Barcelona coach in the eye - I wouldn't have done that."
Keane reckons that he would have enjoyed playing under current Bayern Munich coach Guardiola, better than he would have enjoyed under Mourinho.
"If I was still a player today, I'd like to think I could work with Pep Guardiola. I like his style, and his presence, and the way he conducts himself," the former United skipper concluded.