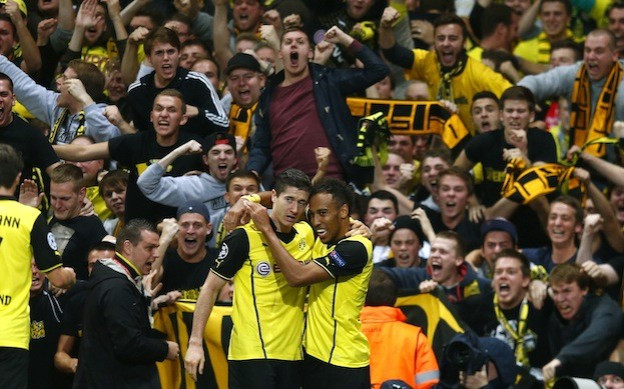 Chelsea are planning to fund a bid for Borussia Dortmund striker Robert Lewandowski with the sale of Demba Ba to Valencia in a blow to Arsenal's hopes of landing the duo.
Lewandowski seemed set to go to Bayern Munich when his contract concludes with Dortmund in the summer of 2014 but the Poland international has recently insisted that he hasn't yet confirmed a deal with the Bavarian giants and would be open to playing in the Premier League.
The Blues are believed to be on the lookout for a new striker and Ba is yet to prove he is first choice for Jose Mourinho, who has selected the African just twice in the league so far.
And Metro are reporting that Valencia are willing to take the former Newcastle man off Chelsea's hands for around £7m, which would be ideal for the side who would rather send him overseas than to direct competition and the equally interested Arsenal.
The sale would make room for Lewandowski in the Chelsea line-up and the Daily Mail claim that the Blues will offer the money taken from Ba's sale to pay for the Champions League finalist who will be allowed to speak to other clubs about a move from 1 January.
Dortmund made it clear they wouldn't sell Lewandowski to Bayern in the summer but the side are reportedly much more open to sending him abroad in the hopes of not having to compete against him in the Bundesliga.
And Chelsea could in fact be the perfect move for the man who has claimed he wants a new challenge, and the club would certainly offer wages that would be desirable as he considers all the current offers on the table.
The move could be a double blow for Arsenal who are on the lookout for a striker to give assistance to Olivier Giroud. The Frenchman is starring in the Premier League at present but if injury befalls him, Arsene Wenger will have to turn to Nicklas Bendtner who is far from full match fitness.
Lewandowski is one name which has been strongly connected to the Gunners and their rejected bid to take Demba Ba on loan in the summer was widely documented.
Arsenal are currently at the top of the Premier League table and with Chelsea hoping to mount a serious title challenge this season the side will take great pleasure in blocking two targets from making the move to the Emirates.