Jose Mourinho has reiterated Manchester United and Liverpool's call for mutual respect between rival supporters during Monday night's (17 October) Premier League meeting at Anfield. The two clubs issued a joint statement yesterday appealing for people to "be respectful and help eradicate all forms of offensive and discriminatory behaviour from the game" after last season's two-legged Europa League last-16 tie saw Uefa hand down a flurry of fines for illicit chanting and crowd disturbances.
That public message also included a warning that supporters found to be engaging in such behaviour at an "unrivalled fixture in the Premier League calendar" would be immediately removed from the stadium and risked the possibility of both arrest and prosecution. In addition to the in-ground issues in 2015-16 that saw fans singing offensive songs referencing the Heysel and Munich tragedies, two men were handed community service orders in August after unfurling an obscene banner over a bridge on the M602 that read "Murderers" above the date of the Hillsborough disaster.
"Of course [I endrose the statement]," Mourinho was quoted as saying by United's official website at a pre-match press conference held at Carrington on Friday. "In football we have some football 'tragedies' that you can make fun of.
"The human tragedy is much more serious and not the thing somebody should use on a football pitch. These need our respect, so I would be really sad if in such a big match that was a negative point."
On the scale of the rivalry itself, he said: "I always like to play at Anfield. I've won big matches and lost big matches there, so I cannot say I like to go there as I am always successful as this is not true. I like the atmosphere and the characteristics of the matches. It is a big match that can be comparable to Inter v Milan and Real v Barcelona, maybe Porto v Benfica – this I like."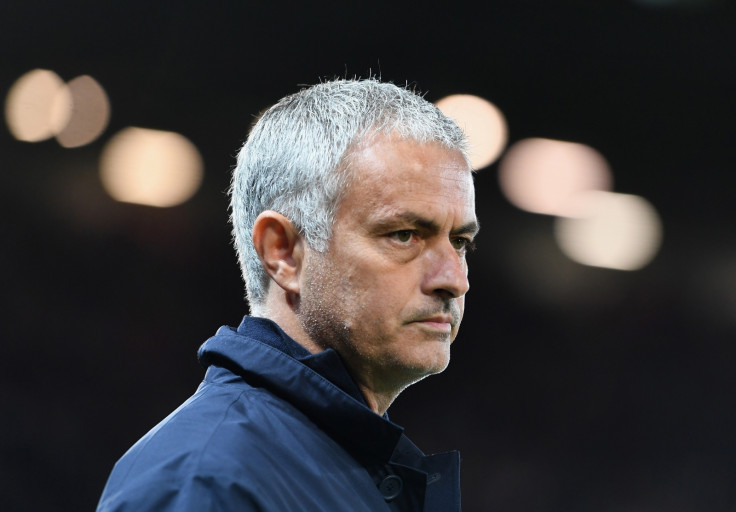 Mourinho is generally a reviled figure at Liverpool, dating back to an old feud with Rafael Benitez – although he claims to be unconcerned by the prospect of a hostile reception during his first visit to Anfield since succeeding Louis van Gaal as United boss in May.
"It does not make a difference," he added. "I go there to play my game, do my work and enjoy my work. I think the fans should also go to enjoy, support their team and create a bad atmosphere for the opposition, but in the limits of the safety and the respect. I think that is going to happen."
On the subject of captain Wayne Rooney, who has been the centre of much media focus this week after finally being dropped by England for Tuesday's 2018 World Cup qualifying draw in Slovenia, Mourinho simply said: "England is not my problem, but he is prepared, training well and is positive."