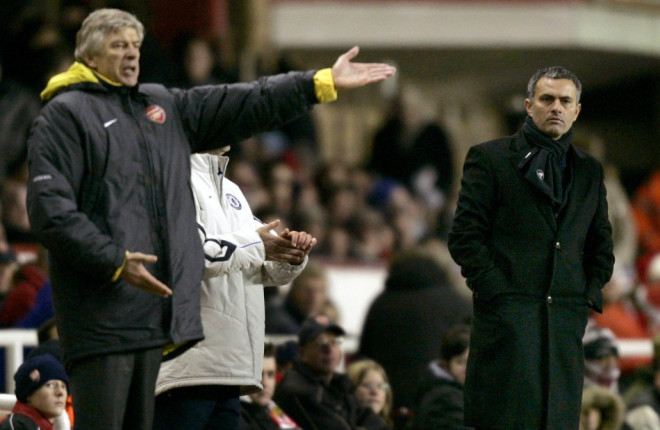 99.9% of Chelsea Supporters laughed their heads off seconds after Jose Mourinho spat out the words "specialist in failure" in response to Arsene Wenger's insinuation that The Special One is in fact 'the fearful one'.
After all, Jose was merely articulating what Chelsea Supporters have been saying for years. Nearly nine years in fact – the number of years that Wenger's Arsenal have failed to win a trophy. Many Arsenal fans I know have in recent times expressed their dissatisfaction with Wenger's failure – and some have even suggested that 'Le Professor' should go. But that article is best left for another day!
Mourinho's press conferences and public statements are already the stuff of legend, and statements like this, against one of Chelsea's main rivals, are precisely why Chelsea supporters love him. Well that and his unparalleled level of success. He says what we are thinking, and by doing so we believe that he is one of us. He, like us, IS Chelsea. He is Chelsea in a way that Rafa Benitez could never be Chelsea.
There is no right or wrong, good or evil here. However much the press would like to pronounce moral judgements from on high as to whether Wenger or Jose is the most successful; or how unfair it is that Wenger can be called a failure when, single handed, he built the shiny monolith to corporate football that is the Emirates Stadium; or how he has, like a Super-Accountant, produced the best balanced football accounts in the land.
It's not about any of that, or even some rose-tinted view of a time when football was run by Old Etonian gentlemen called Hill Wood. It's about football, which means it's about tribal rivalry. It's about winning trophies and the delight the fans experience when their club wins one. And this is what Jose Mourinho gets to his absolute core - and it would appear, Arsene Wenger does not.
It could be argued that football supporters assume the characteristics of their club's manager in the same way that dogs assume the characteristic of their owners. If this were true of Chelsea and Arsenal supporters, then Arsenal supporter's would be studious, thoughtful, deep thinkers about the game and Chelsea supporters would be sharp, prickly, living from moment to moment and perhaps a touch arrogant. There's a thesis in there somewhere I suspect.
At the end of the day this so-called unseemly spat should be seen for exactly what it is - entertainment. Secretly I think Arsene knows this and actively colludes in it. The press love it and in fact go out of their way to stoke it up. The fawning by the press at Jose's return press conference in August tells you everything you need to know about how much they need the barbs, brickbats and controversy that Jose Mourinho the football manager brings to the table.
He helps to sell newspapers, and keeps the reporters in a living. He is box office and they know it. The mock horror at the collateral damage is like the beautiful woman who realises she has just been bitten by Dracula – she is shocked but secretly she loves it. And of course we all lap it up too.
Beyond the entertainment though, I suspect there is some serious strategy and manipulation going on – on both sides.
Jose Mourinho seldom says anything without some Machiavellian machination behind it. He is the past master at deflecting focus and criticism away from his all-important team. It is no accident that he winds it all up just after Chelsea dropped points to West Brom and the title challenge faltered, and just before a Cup tie with rivals Man City, which he must have known deep down could end in defeat. Instead of the press and public asking probing questions about weaknesses in his team and their ability to win trophies, all everyone has been talking about ever since is Jose Mourinho being the devil incarnate.
In the process he seeks to destabilise and attack a rival – Arsene Wenger and Arsenal. If Wenger responds and rises to it all (which he does every time), he and his team lose focus. By accusing Wenger of being a "specialist in failure" he has also planted a seed in Wenger's mind, in Arsenal supporter's minds and the minds of the press. A short, pithy sound bite that will be long remembered, and I suspect be brought up frequently in the future. The best way to psychologically unsettle your opponent is to state the truth they do not want to acknowledge. It hurts and gnaws away at them. Jose knows this, which is why he uses it to such devastating effect.
With Arsenal it is the fact that they have not won any silverware for over eight years. When attacking Pellegrini and City it is the pressure of having to get a return on the enormous investment they have made - statements that will eat away at the psychological underbelly of both clubs.
Jose has revealed his hand in that he sees Wenger (Arsenal) and Pellegrini (City) as his two main rivals. And this is very much his modus operandi. When he arrived in the Premier League in his first Chelsea incarnation, he focussed his attacks on Arsenal and Arsene Wenger, who the year before had won the Premier League without losing a match. Later in his Chelsea career, he sought to undermine and attack Rafa Benitez, whose Liverpool became Chelsea's perennial rivals in the Champions League.
What we are seeing is the return of a club rivalry between Chelsea and Arsenal, Mourinho and Wenger and a new one with Chelsea and City, Mourinho and Pellegrini. I for one welcome it, as that is what football should be about – rivalry and entertainment.
Oh and this is nothing new or even the collapse of civilisation as we know it. Back in the early 1970s a manager of whom Mourinho is the modern embodiment played mind games as well. Brian Clough famously had spats with Don Revie using the same tactics. And football survived!
David 'Stamford Chidge' Chidgey presents the award winning Chelsea FanCast TV show and podcast which can be seen every Monday at 19.00 on SportsTonightLive.com or You Tube or heard at mixlr.com/chelsea-fancast/ or downloaded from ITunes. Follow us on twitter @StamfordChidge and @ChelseaFanCast