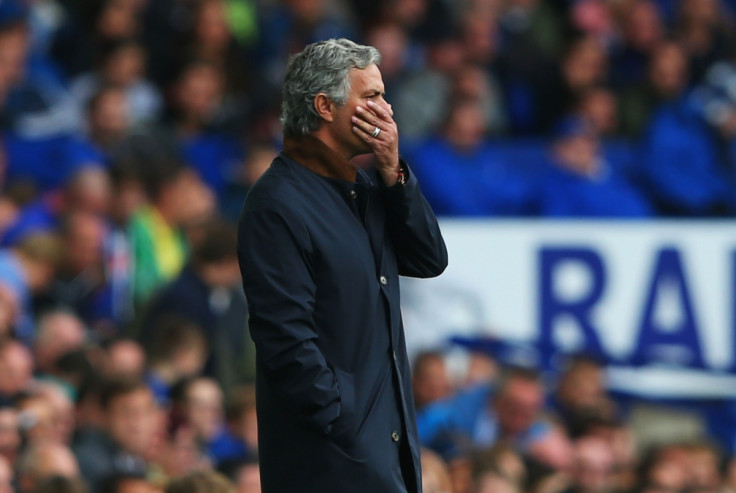 Jose Mourinho insists he is the right man to lead Chelsea despite suffering the most difficult period of results in his illustrious managerial career to date and guiding the defending Premier League champions to their worst start to a season since 1988. Everton became the latest side to cash in on their misery on 12 September, with Steven Naismith netting a perfect hat-trick after replacing Muhamed Besic as a ninth-minute substitute to secure a 3-1 victory at Goodison Park.
Following their third defeat in just five matches, the same number they suffered in the whole of last term, the Blues are now perched just two points outside of the relegation zone in 17th place. No other team in the top-flight has conceded more goals since the 2015/16 campaign began in early August, yet their manager remains defiant over his own role.
"The results are the worst in my career," Mourinho admitted as reported by BBC Sport. "They are not adapted to my quality, my status, but I am coping well with the situation. I am not feeling pressure. I am the man for the job. I don't think there is better man who could come and do my job."
What has truly compounded Chelsea's dismal opening is the comparatively blistering form of title rivals Manchester City. Last year's runners-up have now won 11 successive Premier League matches and showcased their depth and resilience at Crystal Palace this weekend as Kelechi Iheanacho came off the substitutes' bench to net a stoppage-time winner with his first goal in senior football.
Manuel Pellegrini's early pacesetters are already 11 points clear of Chelsea and although there are still 33 games and no doubt a number of twists and turns left to come, Mourinho concedes that the ability to retain the title is already out of their own hands. A home tie with Arsenal is next on the domestic agenda, following on from a midweek Champions League meeting with Israeli champions Maccabi Tel Aviv at Stamford Bridge.
"It is out of our control," he added. "To win the title, it will depend on us to improve the results but also on other clubs who are above us to lose matches. Even if we win every game between now and the end of season, we still depend on other results."
Far from a popular figure with rival clubs and supporters, Mourinho believes that there are many that will be revelling in seeing such a successful manager now struggling badly to live up to significant expectations. He did, however, vow to continue working to find a solution to Chelsea's current woes ahead of their European opener.
"I know that a lot of people are happy that after so many years to see me in a situation like this. Fair play. Enjoy. But I will enjoy my day tomorrow, again working hard as always thinking that on Wednesday we can win."