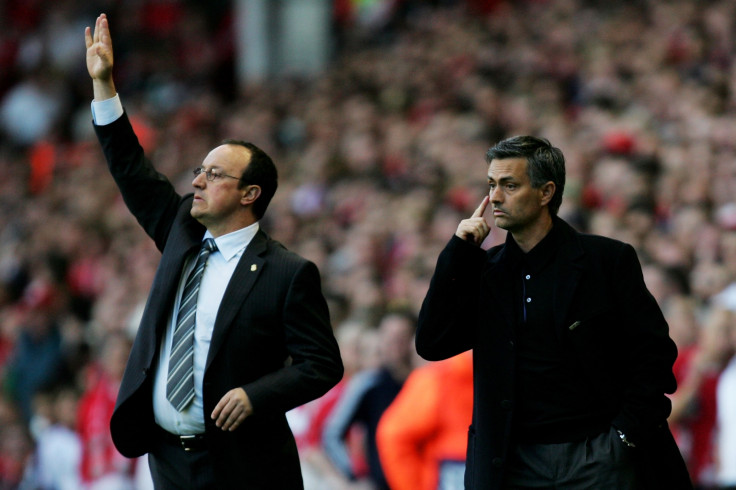 They have not worked in the same country for eight years, and yet the feud between Rafa Benitez and Jose Mourinho shows no signs of abating. The latest chapter of this vendetta was innocently sparked by the current Real Madrid manager's wife, who jokingly told a Spanish newspaper that her husband was constantly "tidying up" after his rival, referring to Benitez managing Inter Milan, Chelsea and Real Madrid after Mourinho's spells at the clubs.
Mourinho hit back at these reports by pointing out Benitez has only directly replaced him once during their career, gleefully pointing out to reporters that it took the Spaniard just "six months to destroy the best team in Europe" after he was named his successor at Inter Milan in 2010. The two managers arrived in the Premier League together in 2004 and have never been quite able to stay out of each other's way. Here's a look back at their most famous run ins.
May 2005 – Luis Garcia's infamous ghost goal at Anfield was the rather memorable catalyst to this rivalry. The Spaniard's controversial strike saw Liverpool eliminate Chelsea at the Champions League semi-final stage.
Mourinho, as you can imagine, was not impressed with the manner in which Benitez's side progressed. "It was a goal that came from the moon – from the Anfield stands," he said after the game. "The best team lost. Liverpool scored, if you can say that they scored, because maybe you should say the linesman scored."
September 2005 – 'Boring, boring Chelsea' was a popular thought after the Blues tediously stormed to Premier League title success in the 2004/05 season and Benitez was more than willing to use it as a stick to beat his rival. After a rather tame meeting between the sides in the Champions League group stage, Benitez told reporters: "To me, Arsenal played much better football two or three years ago. They won matches and were exciting to watch.
"Barcelona and Milan too. They create excitement so how can you say Chelsea are the best in the world?"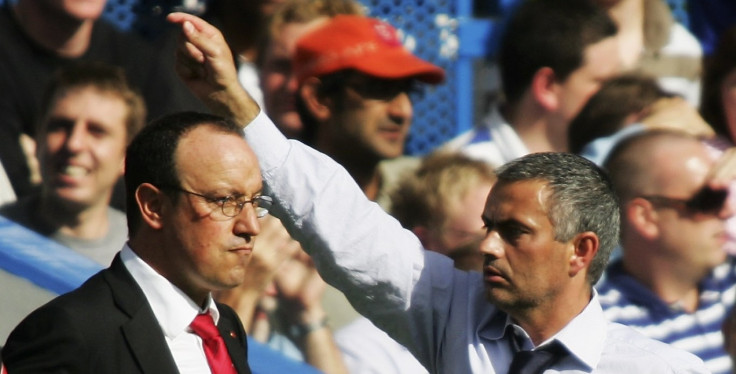 September 2006 – Not long after a Community Shield encounter where both men refused to even acknowledge each other on the sidelines, the relationship between the two plummeted further when Mourinho revealed ahead of an encounter at Stamford Bridge that he would not apologise to the Spaniard until he received an apology himself for starting their ruck.
"'I'm not a hypocrite. If he realises that he made some comments in the past that he shouldn't have made, I'm more than ready to shake hands.
"If we are in the tunnel and we don't look at each other but then shake hands in front of everyone, then the next day everyone will say we are good friends. No. I won't shake hands just for the photo."
April 2007 – While Mourinho's Chelsea dominated Benitez's Liverpool in the league, the Spaniard was able to mastermind a succession of European and domestic cup victories. According to Benitez, this was what soured their relationship. "We were good friends until we started winning, then he started changing his mind.
"It's the same with the managers of the top sides. He has good relationships with managers of teams he beats."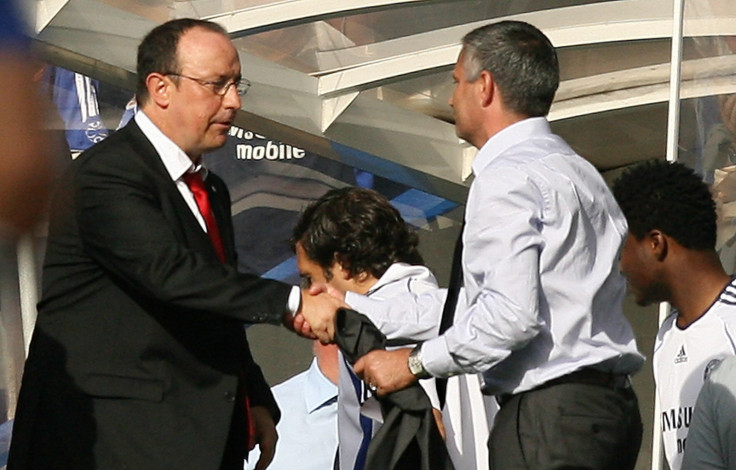 April 2008 – Even after leaving Chelsea and the Premier League behind, Mourinho was unable to resist a couple of digs at the ex-Valencia manager. Several months after walking out of Stamford Bridge, he aimed swipes at the records of Sir Alex Ferguson and Arsene Wenger, but saved the most stinging of his attacks for Benitez.
Mourinho mused: "How many championships has Benitez won since he joined Liverpool? None. And how many names were suggested by the press to replace him? None."
August 2010 – Stepping in to replace the man who had just won the treble is a tall order to fill but Rafa Benitez spoke confidently about eclipsing the accomplishments of the previous Inter manager upon his appointment that summer. Mourinho's blunt reply to that was: "One thing is for certain. Benitez won't do better than me."
July 2013 – Chelsea's attempts to defend their 2012 Champions League crown ended in dismal fashion when they failed to qualify from their group the following season. Leading the club as interim manager, Benitez guided the club to Europa League glory in 2013 but that achievement was swiftly undermined by Mourinho following his re-appointment later that summer. "I don't want to win the Europa League.
"It would be a big disappointment for me. I don't want my players to feel the Europa League is our competition."
March 2014 – Maybe with those comments still ringing in his ears, Benitez waited patiently to stick the boot in. While Chelsea were still in the Champions League at the time of his comments, Benitez suggested his old adversary's record in Europe was poor given the amount of money he had on tap at both Real Madrid and Chelsea.
"He had an extremely strong and expensive Real Madrid and left the club without winning the Champions League," then then-Napoli boss said.
"In three years at Madrid he did nothing in Europe. Maybe if Mourinho sells Eden Hazard and Oscar for €360m to build another team, he will succeed in something." Two months later, Chelsea went out in the semi-final stage following defeat to Atletico Madrid.