Josef Ackermann's resignation over the suicide of a colleague, amid what he dismisses as "unfounded" speculation that it was the result in part of the pressure he was putting on staff, is another rung down the competitive financial ladder for a man once dubbed "the most power banker in Europe" by the New York Times.
An academic, a Swiss native, but most of all, a banker, Ackermann started his career in corporate banking at Credit Suisse in the mid-1970s, before fighting off lesser rivals to become chief executive of the investment giant Deutsche Bank in 2002.
It was at Deutsche that he was the go-to financier for a frantic German chancellor, Angela Merkel, the day after the most catastrophic moment of the financial crisis - when Lehman Brothers collapsed.
She tugged on his arm for help in saving one of Germany's biggest banks from ruin, which could have plunged the eurozone's biggest economy into chaos. A few phonecalls to his financier friends and $8.5bn later, well-connected Ackermann had secured the rescue.
CDOs and the Financial Crisis
Yet it was also under his reign at Deutsche that the bank became one of the biggest injectors of financial toxins into the banking world.
Deutsche built itself up as a key player in collateralised debt obligations (CDOs), aka the bubble of toxic subprime mortgage-backed assets which kaboomed in the Big Bang moment of the financial crisis.
These products and the culture that led to their creation is still haunting Deutsche Bank. It has set aside €3bn for litigation costs linked to allegations that it mis-sold derivatives, in Italy in particular, the Libor-fixing scandal, and the CDO products it issued in the build-up to the financial crisis.
Meanwhile, the world's economies are still struggling to find a recovery path from the devastating financial crisis created by the bankers who lit the fuse.
It was Ackermann's cut-throat approach to return on equity investment - he demanded 25% pre-tax - that led former IMF chief economist Simon Johnson to brand him "one of the most dangerous bankers in the world".
Such ruthless short-termism, argued Johnson, did not matter to Deutsche because it was deemed too big to fail and would be propped up by taxpayers if any disaster unfolded.
Prettier and More Colourful
But it is not just Deutsche Bank's past behaviour in the financial sector that has marred Ackermann's reputation.
He had to take his foot out of his mouth after saying that appointing more women to Deutsche's board would make it "prettier and more colourful". His comments were dismissed by the bank, which said Ackermann was "a gentleman from the old school".
Ackermann left the bank in 2011 after a power struggle that saw him abandon an attempt to not only remain as chief executive but to step up to the bank's supervisory board, something questionable, though not impossible, under German law.
A missed profit target weakened his leadership further and he left for Zurich, as well as other boardroom roles at Siemens AG, Royal Dutch Shell and Belenos Clean Power Holding.
Pierre Wauthier suicide
Now comes a fresh trough in Ackermann's corporate career. Pierre Wauthier, chief financial officer at Zurich, committed suicide in his apartment - and left a note mentioning his boss, Ackermann.
While the note's details have not emerged, Ackermann acknowledged that Wauthier's family held him partly responsible for the suicide. His replacement at Zurich, Tom de Swaan, confirmed that the former chairman was named in a letter left behind by Wauthier.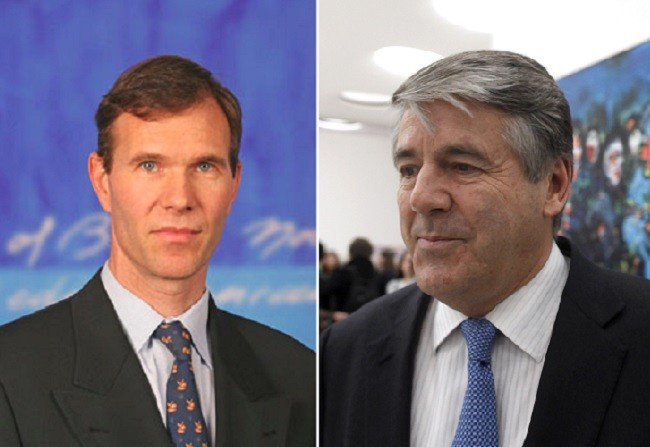 "We were informed that such a letter exists and we are aware of its content. It is correct that it relates to the relationship between Pierre Wauthier and Jo Ackermann, but it would be inappropriate for me to further elaborate on it," said de Swaan in a conference call with Zurich investors, who are concerned about the impact of the revelations on the business.
"It's a very difficult situation, especially for the family and friends of Pierre Wauthier. We all need to respect their privacy during this difficult time and we deeply regret his passing.
"Having said that, the board sees it as its prime responsibility to look into the question as to whether there was undue pressure placed on our CFO."
De Swaan continued: "Let me be absolutely clear, we, meaning the board and management of Zurich, take corporate culture and behaviour very seriously. In addition, from my own personal perspective, I am not aware of any behaviour that would be considered inappropriate in a board setting."
Ackermann said that he quit "to avoid any damage to Zurich's reputation".
"I have reasons to believe that the family is of the opinion that I should take my share of responsibility, as unfounded as any allegations might be," he said. The death of Wauthier had "shocked" him, he added.