Joseph Parker in 'much better shape' for Anthony Joshua clash than he was for Hughie Fury
KEY POINTS
Parker takes on Joshua in their title unification clash on 31 March in Cardiff.
The winner will walk away with the WBA, IBF, IBO and WBO heavyweight titles.
Joseph Parker is in tip-top condition ahead of his title unification fight with Anthony Joshua, according to the New Zealander's coach Kevin Barry.
Parker will face Joshua in Cardiff on 31 March, with the winner walking away with the WBA, IBF, IBO and WBO heavyweight titles.
In the lead-up to their fight being announced, Joshua notably appeared on The Graham Norton Show where he discussed his plan of becoming the first heavyweight to hold all four major titles.
When a picture of Parker appeared during the show, both Norton and "AJ" mocked his body and referred to the WBO heavyweight champion as a "pie-eater" in comparison to Joshua's ripped physique.
While Parker did not take the jab the wrong way, it has only motivated him as Barry claims he is in better shape than he was for his last title defence against Hughie Fury back in September last year.
"Joe has been very disciplined and on point," Barry told stuff.co.nz. "His body looks really good. He is in much better shape already than he was for the Hughie Fury fight.
"He laughed at it [the pie-eater jokes]. He didn't take it as an insult, he thought it was a fair cop, he'd put a few pounds on in his break. Joe likes a pie, but I can tell you this, he hasn't eaten any pies in the last five weeks. He's doing some great strength and conditioning work. I'm confident we are on track for a very good performance.
"Joe looks good, he's going to look even better when he gets on the scales for the weigh-in and I think he will be ready for a career-defining performance in his biggest-ever challenge."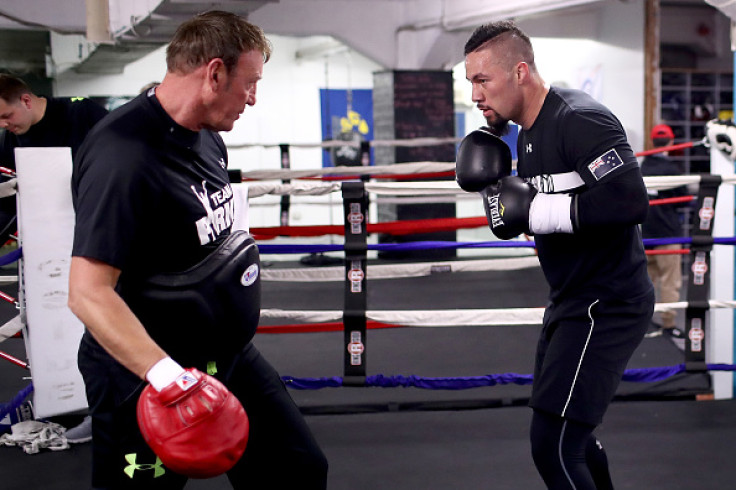 The Parker camp is confident of making history as Barry had previously outlined what the 26-year-old has to do to emerge victorious against the Briton.
However, if Joshua were to walk away with the WBO title on the night, it would simply be because he was the better fighter.
"It's all going well... we are right on track, no excuses," Barry added. "We both believe this is the right time to fight Anthony Joshua.
"If we don't get the result that we think we are going to get, it's because we're simply not good enough. There is no other reason. If we don't beat him, it's because he is the better fighter.
"But we are both very confident, we like where we are at, we are excited by the magnitude of this challenge. I've said all along, the biggest challenges bring the best out of Joseph."