Trainer explains what Joseph Parker needs to do to beat Anthony Joshua and make 'heavyweight history'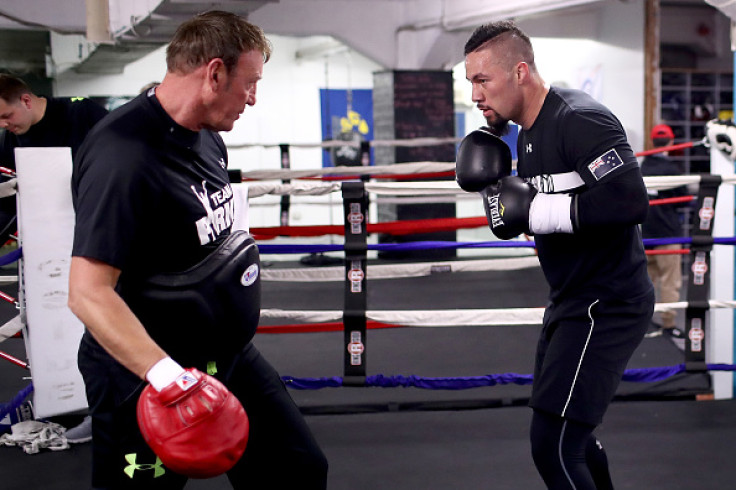 KEY POINTS
Joshua takes on Parker in a heavyweight title unification fight on 31 March.
The winner will leave with the WBA, IBF, IBO and WBO heavyweight titles.
Joseph Parker's trainer, Kevin Barry, believes a "great performance" from the New Zealander will result in him making "heavyweight history" against Anthony Joshua.
Parker will put his WBO title on the line against Joshua's WBA, IBF and IBO titles as they clash in a title unification fight on 31 March in Cardiff.
The winner of the fight will go one step closer to becoming the first fighter to hold all four major heavyweight belts with WBC heavyweight champion Deontay Wilder expected to face the winner, provided he defeats Luis Ortiz on 3 March.
Joshua is the betting favourite heading into the fight but Barry believes Parker will create an upset if he focuses on movement and offence, adding that the unbeaten 26-year-old will do things never before seen in his previous fights.
"Joseph Parker, at his best, does things that other heavyweights only dream of doing," Barry told Boxing Voice via Newshub.co.nz. "If he brings his best performance, we will leave the ring victorious.
"Anthony Joshua is very big, very strong. He has height and reach over Joe, and he hits very hard. If we go backwards the whole fight, then it will be an easy night for Anthony Joshua.
"I need a lot of movement from Joseph, I need the Joseph Parker that shows hand speed and foot speed. I need the Joseph Parker that not only moves backwards well, but attacks.
"We are going to do a few things in this fight that we haven't seen from Joseph Parker's last few fights. If we stand back and let Joshua measure the distance with his jab, and keeps Joe on the outside, it will be a difficult night for us. We need to pick our moments to attack and give a lot of movement."
Since winning the WBO title via majority decision in December 2016, Parker won his next two bouts via decision as well. However, Barry believes the occasion will bring out the best version of the South Auckland native.
"This is the first time in eight years that we have had a unification fight in the heavyweight division," Barry added. "This fight has a lot of importance for heavyweight boxing.
"Joe needed the ultimate challenge and that's what this is. This will bring the best out in Joseph Parker. His focus has changed, the motivation is there and there is a spark in training. This really means something to him. It's heavyweight history at stake."