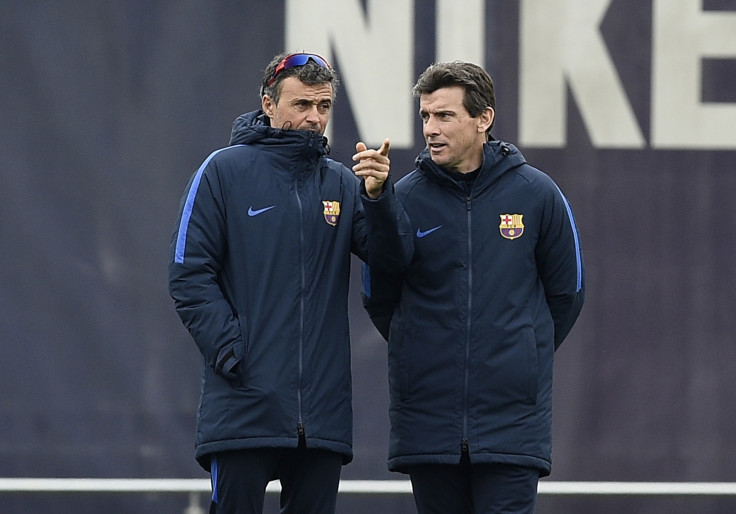 Juan Carlos Unzue is "excited" about the possibility of replacing Luis Enrique as the next Barcelona manager, according to his brother Eusebio.
Reports in Spain in recent days have claimed that Luis Enrique's current assistant and Athletic Club Bilbao manager Ernesto Valverde are the two main candidates to take over at Barcelona when the season ends.
Sevilla boss Jorge Sampaoli was also linked with the job after Luis Enrique announced his decision to quit, but he has been reportedly ruled out as the club wants someone who has been at Barcelona before.
Earlier this week a poll made by Catalan publication Mundo Deportivo revealed Unzue is the favoured candidate for the fans ahead of Valverde, Everton's Ronald Koeman and Eusebio Sacristan.
Unzue, 49, has no experience as a top-level first-team manager but was a goalkeeper at Barcelona during his playing days and also served as the goalkeeping coach for Frank Rijkaard and Pep Guardiola before becoming Luis Enrique's assistant.
Players like Andres Iniesta or Ivan Rakitic have also claimed in recent days that Unzue would be welcomed by the dressing room.
Barcelona club technical director Robert Fernandez said earlier this week that Unzue is prepared to take the job – but suggested that Valverde is also under consideration.
Now Eusebio Unzue, who is the team manager of the Movistar Cycling Team, has admitted that his brother would love to be the chosen one.
Asked by Cadena Cope whether he sees his brother getting excited about the possibility of succeeding Luis Enrique, Eusebio admitted: "Yes, a lot."
"He dares to do it and he feels himself capable [of taking on the challenge]. He has been fortunate to have been worked with great managers both as a player and as a coach. He has worked with some managers that have been a reference in football. Almost every year of his career has been like doing a Masters alongside very competent people.
"I am delighted that he is one of the possible candidates [to replace Luis Enrique]. It's good to hear that some important members of the club also say that they have confidence in him. Barcelona will decide the better option and I only hope they make the right one."