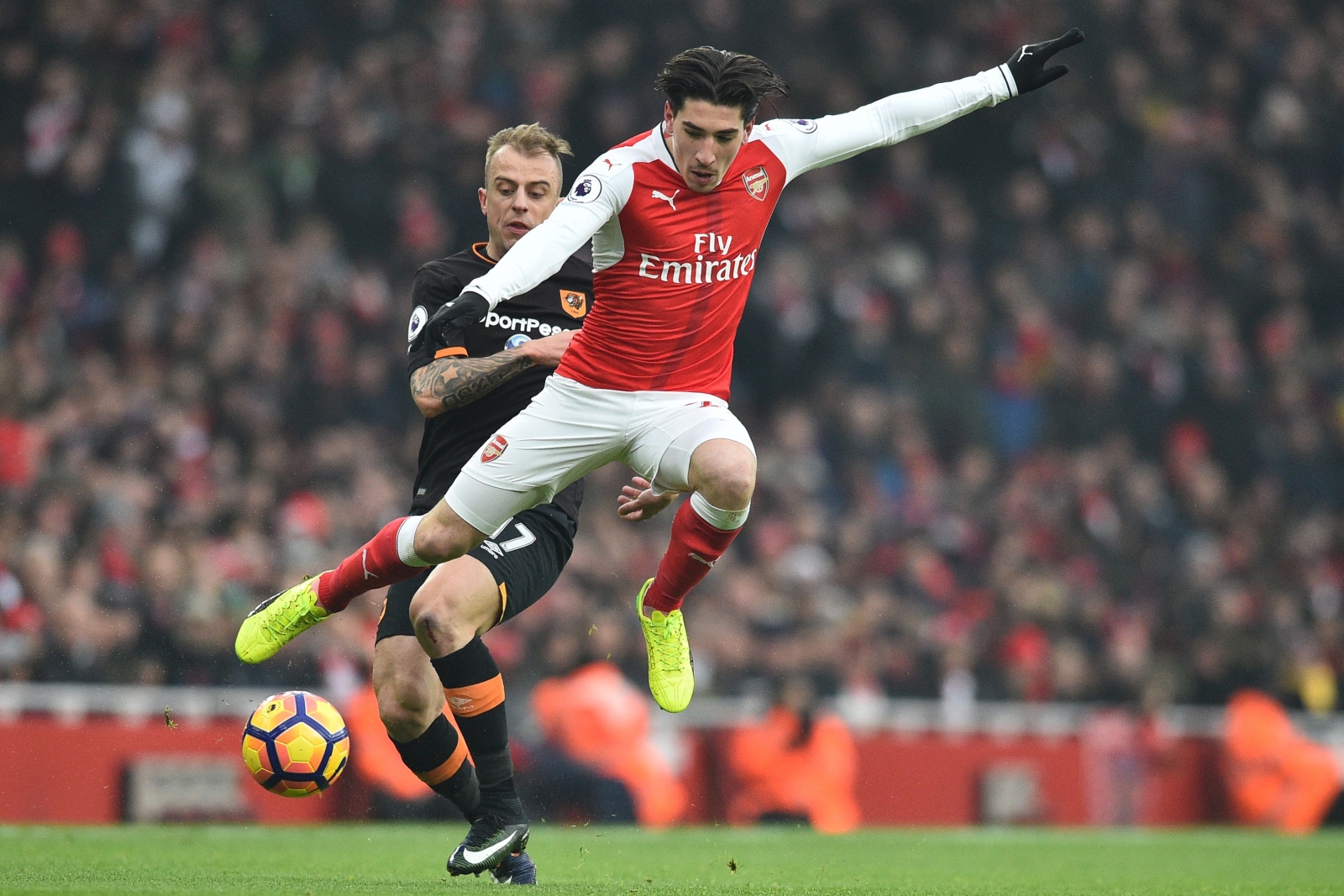 Barcelona technical director Robert Fernandez has admitted his admiration for Hector Bellerin, but suggested the La Liga giants won't break the bank to sign the Arsenal right-back during the coming summer transfer window. The club chief gave a long interview to Spanish radio station Cadena Ser where he addressed other big issues for the Nou Camp faithful, including contract renewals for Lionel Messi and Andres Iniesta, the potential return of Gerard Deulofeu and the candidates to replace Luis Enrique ahead of the 2017-2018 campaign.
The Catalans made a significant summer overhaul during last summer's transfer window to bring in Paco Alcacer, Samuel Umtiti, Andre Gomes, Jasper Cillessen, Denis Suarez and Lucas Digne after spending more than €120m (£104m, $129.6m).
However, Barcelona failed to sign a new right-back to fill the gap left by Dani Alves' departure, and recent reports in Spain claim they have earmarked the signing of the Arsenal ace a the top priority ahead of the coming season.
The 22-year-old grew up in Barcelona's academy before joining Arsenal and has been tipped follow the same path as Cesc Fabregas, who also came to North London from La Masia before returning to the Nou Camp.
But Fernandez has suggested the club are not too keen about paying a big fee for someone who left the Barcelona academy for free in 2011.
"He is a good player and is playing very well at Arsenal. He is young. I do not like to pay fortunes for [someone who came from the Barcelona academy]," Fernandez told Cadena Ser when asked about Bellerin. "We have to look at what we have in our academy before making new signings. I'm sure next season someone from La Masia will be promoted. One year ago I said that there was no one with options to play in the first-team [this season] but soon we will see some."
Barcelona are also reportedly interested in signing a creative midfielder to become a long-term replacement for Iniesta, with Andre Gomes struggling to make the impact expected during his first season at the club.
Another former player in the shape of Thiago Alcantara is said to be in their sights, alongside Paris Saint-Germain star Marco Verratti. But Fernandez has predicted a quiet transfer window at the Nou Camp. turning coy when specifically quizzed over the two coveted midfielders.
"I predict very few signings in comparison to last season, when we did a lot of business. This summer will not be the same," the Barcelona chief said.
"Thiago is a good player and this type of player is always well-regarded at Barça but he has a contract [at Bayern]," Fernandez said before adding: "Signing Verratti is not easy, firstly because he is under contract [at PSG]."
Elsewhere, Fernandez has claimed the club are still closely monitoring the development of Deulofeu, confirming they have an option to re-sign the Spain international for €12m.
"We have a chance to get him back and that's good. I am very happy with what is happening. He was not playing at Everton but he has been called up by the Spanish national team following his good start at Milan. We will see. That's good news. The good news is that we have the option of paying €12m to re-sign him."
Fernandez also admitted that some players would need to leave the Nou Camp in the summer to make space for new additions.
He was more optimistic when asked about the futures of Messi and Iniesta, assuring that both players will sign new deals at the Nou Camp sooner rather than later.
"[Messi] will renew, as I've always said. He is happy at Barcelona, he feels comfortable in the team and the environment is perfect. He is in a fantastic team. I don't have any doubt. When I look into his eyes I see that he is happy at Barcelona," Fernandez said. "[Iniesta] will also renew and he'll do it in his own time. Andres deserves the best. Why? He grew here as a player and he has given everything for the club and the club have also given him many things. He is a special player in every sense, a person that's well-loved. I have no doubt that he'll renew. I can't imagine a Barcelona without him and he can't either."
Meanwhile, Fernandez denied the club has made an offer to appoint Massimiliano Allegri as the next Barcelona manager, adding that the new boss will have to be someone who knows the club well. In this sense, Luis Enrique's current assistant Juan Carlos Unzue and former Barcelona player Ernesto Valverde have emerged as the two main candidates to take over the Catalans ahead of next season.
"Juan Carlos is a person that knows the club, the players and the system well. He's well-prepared and he's demonstrated that for many years. He is a good option. I wouldn't say that the success of this season would condition [his chances]. Both he and the team should be relaxed because they're doing a magnificent job," Fernandez said.
"I spent two years with Valverde at Barcelona and the truth is he's doing a great job at Athletic, as he has done at the clubs he has coached. He's a serious person, with good knowledge of the game and he's a great manager."