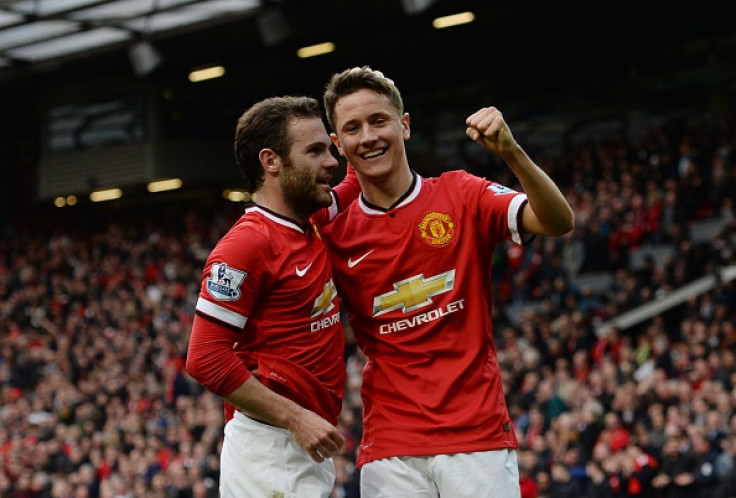 Juan Mata has revealed that Manchester United tried to circulate the ball fast and use both wings to score goals against Aston Villa.
In the last league fixture, the 20-times English champions sealed a 3-1 win over Tim Sherwood's side at Old Trafford. Ander Herrera opened the scoring before Wayne Rooney doubled the lead with an outstanding goal.
Christian Benteke scored one for the visitors, but a late goal from Herrera made sure Louis van Gaal's side sealed three crucial points. The former Chelsea star was delighted with United's performance and hailed the England international and his compatriot for getting their names on the score sheet.
"We tried to use both wings and circulate the ball fast, and actually that's how we scored. The team performed at a very high level, we fought from the very first minute to win the game and we were able to score in decisive moments to make things difficult for Aston Villa," Mata wrote in his weekly blog.
"Three great goals I'd say. Wayne's goal was spectacular, really nice to watch; not many players can score a goal like that. And two more goals from Ander."
"I think this is the first time he scores twice in a game and I'm very happy for him! The truth is he deserves it. He is a genius on and off the pitch and I know how happy he was after the game," he added.
United have managed five consecutive wins in the Premier League now, which includes victories over Tottenham Hotspur and Liverpool. They now host English champions Manchester City in the next clash at Old Trafford.
Mata has warned his teammates that City can create trouble to United in an isolated play.
"The team is improving, this is our fifth consecutive win in the Premiership and we want to keep this streak," the Spain international said.
"Winning the derby against City the next Sunday could be very important for the battle in the #top4. A derby is always special and we must be careful with City's attacking players, because they can win the game in an isolated play," Mata concluded.