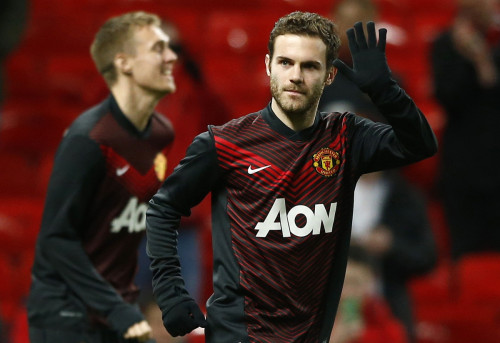 The departure of Juan Mata from Chelsea has left most supporters massively conflicted. After watching Jose Mourinho's press conference where the issue was discussed, it appears that we are not the only ones. At the end of the day, we are all left mourning the loss of both an extremely talented player and thoroughly decent human being.
After two seasons where Mata was clearly Chelsea's best player – creating and scoring important goals and helping to keep the trophy cabinet full – this season has been frustrating for the player and supporters alike.
After slow start to the season after the rigours of competing in the Confederations Cup, Mata no longer found himself one of the first names on the team sheet. A few sporadic appearances together with a fair amount of bench sitting made it clear to one and all that Jose required our diminutive playmaker to fight for his place in the side, to adapt his style of play to the more pragmatic needs of the team, and - even more telling - try to dislodge Jose's preferred Number 10, Oscar, from the side.
We all felt for Mata. Many believed he should be starting every game, not warming the bench. Grumbles and murmurs about Jose's maltreatment of our two-time player of the year could be heard from Stamford Bridge to Mumbai. Of course, Mata retained his human and professional dignity throughout. Not once did we see an act of petulance, never did we hear a bad word said about the team or Mourinho, except when the player was substituted at Southampton, at the end of both his tether and his stay at the club.
When you reflect back, there was inevitability about it all. Of course many of us refused to believe that the club would be prepared to sell Mata, or indeed that Mata himself would want to leave. But sadly that is exactly what transpired.
To remove the emotion from it for a moment, it is entirely understandable that Mata wanted to leave (although many of us would have preferred him to stay and fight for his place). He is a player who clearly needs to play, and as one who had been so central to the team's success for the last two years, you can understand how unpalatable not playing or contributing must have been. Furthermore, in a World Cup year, every international player will have one eye on his potential inclusion or exclusion from their national squad.
One of the most interesting nuances from the press conference the day or two before the deal was done was how Jose stressed that they had done the right thing by Juan Mata, even if that might have been to the detriment of the club, in the short-term. In this day and age, with the stench of avaricious modern football offending nostrils everywhere, it is a rare thing that a Club are prepared to act in accordance with the needs of the player rather than the needs of the Club. I like to think that they have acted honourably on this occasion and that in the case of Juan Mata it is well deserved.
A more cynical view might be that we are talking about a player, no matter how talented, who had effectively been side-lined and who was clearly not suited to Jose's system or the team he is attempting to build. You can also argue that within the parameters of Jose's 'new team' is Mata really better than Hazard or Oscar? Only time will tell on that one.
In addition we have every right to question whether Jose could have done more to accommodate Mata in the side. But again to be fair, I firmly believe that Jose would rather Mata stayed at the club. At the end of the day the buck stops with Jose in terms of the decisions he makes and his vision for the team. Let's hope he is not proved wrong. The fact remains though, the club have done the decent thing in allowing a player who both needs and wants to go, to do so.
That of course, does not hide the fact that Chelsea has pocketed a healthy profit in selling Mata. It would be nice to think that they 'mugged off' Man Utd by overcharging, but when you consider his contribution over the last two years, and the type of player he is, then £37.1 million seems to be a fair price. Of course this cash injection allows Mourinho to buy players who fit within the style he wants the team to play, which is no bad thing.
The most salient point, here, though is that it may mark a significant change in the club's buying and selling policy where, due to 'Financial Fair Play', transfers may well have to be funded through player sales. For Chelsea supporters who have witnessed the frightening buying power afforded by Roman Abramovich's ownership during the last 10 years, this is a worrying change – especially when you consider the current obvious imbalances in the squad. On the plus side the club appear determined not to be 'mugged off' in future, which is no bad thing!
Of course the main issue with supporters has nothing to do with 'doing the right thing' and high finance. The thing that irks us most is the fact that we have sold Juan Mata to a despised rival. Worse, we have sold a fantastic player to a Man Utd who were on their knees, and will be undoubtedly be improved by the acquisition of Mata. In many respects it doesn't seem sensible to me to sell one of your best players to a rival – it makes us feel like Arsenal, a selling club. Not what we are used to at Stamford Bridge these days. Furthermore, many of us felt that we should have treated United to the same level of respect (i.e. very little) that they treated Chelsea with when the negotiations for Wayne Rooney were in full swing.
All this has resulted in the inevitable modern phenomenon of 'social media meltdown' with an interesting split between those Chelsea supporters seemingly distraught about losing a player who has earned their respect and affection and others who have been largely pragmatic, taking the view that it was good business, to the dim-witted and bitter claiming that he was never good enough!
For me the game is about passion and heart or it is nothing. I am gutted. He is a superb player with magic feet. I always thought that Mata had the potential to be another Zola. Like Zola he was intelligent and cultured (and small), and he threw himself into the culture of Chelsea and his adopted home - London. In short what we like to call a 'chap'. He could have been an absolute legend at the club, but alas it is not to be. We are a poorer club for letting him go and not having him around - end of! I feel the same sort of loss that I felt (and for the same reasons) when Pat Nevin left Chelsea in 1988.
Feelings of loss are to be expected – it is like a bereavement. But like all feelings of loss they dissipate and we move on; at the end of the day no one player is bigger than the club, the team and supporters. Jose Mourinho is more aware of this than anyone as he builds his title-winning teams precisely on this ethic.
All that is left to say is Juan Mata – THANK YOU! Thank you for the goals, the assists, the passion, the intelligence and the charm while you were with us. Most particularly thank you for the corner against Bayern Munich so that Drogba equalised and Chelsea won the European Cup; and the corner headed in by Brana Ivanovic that won us the Europa Cup. Thank you for that performance and goals against Spurs at White Hart Lane and another goal against Spurs in the 5-1 FA Cup semi-final win. Thanks for the brilliant volley and other goals against Man Utd, and for your goals against Arsenal, especially your last one in the Capital One Cup in front of 9,000 of us at the Emirates Stadium.
David 'Stamford Chidge' Chidgey presents the award winning Chelsea FanCast TV show and podcast which can be seen every Monday at 19.00 on SportsTonightLive.com or You Tube or heard at mixlr.com/chelsea-fancast/ or downloaded from ITunes. Follow on twitter @StamfordChidge and @ChelseaFanCast.