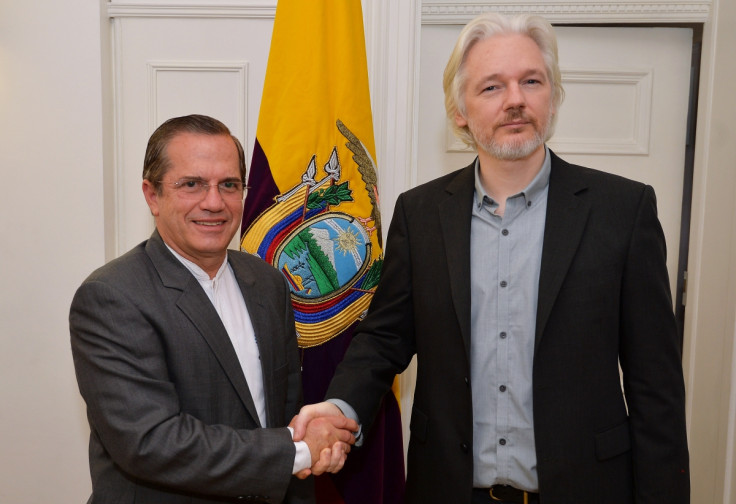 The British government has denied requests from Ecuador to allow Julian Assange to leave the country's London embassy to receive medical treatment. The WikiLeaks founder is said to have been suffering from "deep pain" to his right shoulder for three months and requires an MRI scan to determine the cause of the problem.
Ecuador's foreign ministry said on Wednesday (14 October) that its request for a "safe passage" had been refused, with the UK saying that Assange's arrest warrant still stands. He has been holed up inside the Ecuadorian embassy for more than three years to avoid extradition to Sweden, where he faces a rape charge. He says he fears that Sweden would extradite him to the United States, where he is wanted for WikiLeaks' publication of classified documents.
"We did ask the British government for a safe passage for humanitarian reasons in coordination with Ecuador," said foreign minister Ricardo Patino. "The reply we have had from Britain is that he can leave whenever he likes for any medical care he might need but the European arrest warrant for Assange is still valid. In other words, he can leave – and we will put him in jail."
A statement released by the Justice4Assange campaign noted that the cause of Assange's shoulder injury is unknown and his medical condition could only be diagnosed with hospital equipment. The statement said that the equipment could not be brought into the embassy due to its size and weight. It also included a letter from Assange's doctor, stating that there was "no history of acute injury" to this area of his shoulder and that his movement has become restricted due to the pain.
Meanwhile, Assange's lawyer Carey Shenkman said: "By claiming that Mr Assange must give up his asylum in order to receive medical treatment, the UK government is forcing him to choose between the human right to asylum and the human right to medical treatment. No one should ever have to face that choice."
On Monday (12 October) the Metropolitan Police announced that it would be removing the dedicated officers who have guarded the Ecuadorian Embassy while Assange seeks asylum inside. A spokesperson said: "With so many different criminal, and other, threats to the city it protects, the current deployment of officers is no longer believed proportionate." Three of the four charges against Assange expired in August. Swedish authorities have until 2020 to prosecute the rape charge.