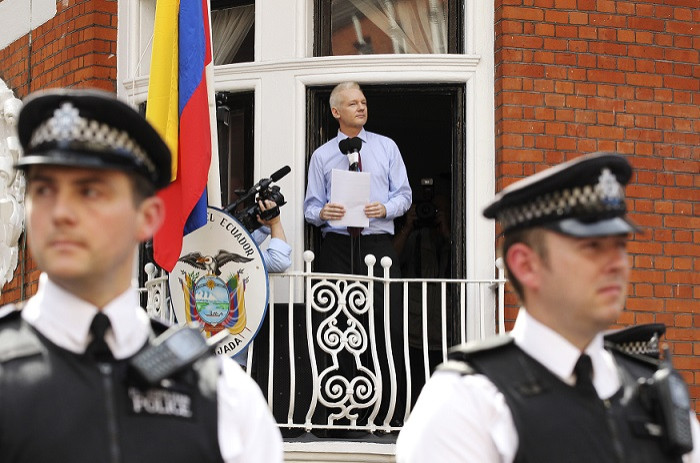 As Julian Assange marks two years holed up in the Ecuadorian embassy in London, the Wikileaks founder will next week make a fresh challenge to his detention order in Sweden.
Jennifer Robinson, Assange's UK-based lawyer said the legal challenge will be lodged with courts in Sweden early next week and was based on "new information gathered in Sweden".
Robinson would give no further details on what the basis of the filing would be until it was lodged with the court.
New of what could be a final attempt to end the stand-off comes as Assange 'celebrates' the two year anniversary of entering the Ecuadorian embassy in west London.
Since then UK police have maintained a 24-hour presence around the embassy, an operation which is estimated to have cost in excess of £6 million.
The UK government is seeking to impose an extradition order which was imposed in November 2010 which seeks to have Assange sent back to Sweden to answer charges of alleged sexual assault of two women in that country.
While Assange has always denied the charges being levelled against him in Sweden, he believes that going back there to answer them would open himself up to bigger dangers.
The problem, as Assange sees it, is that if he does step out of the Ecuadorian embassy he fears he will be deported to the US where he has been under investigation since Wikileaks published controversial documents, leaked by US Army soldier Chelsea Manning (then Bradley Manning) in 2010.
Speaking on the eve of his second anniversary in the embassy, Assange called on US attorney general Eric Holder to end the Department of Justice's grand jury investigation into him:
"It is against the stated principles of the US and I believe the values supported by its people to have a four-year criminal investigation against a publisher. The on-going existence of that investigation produces a chilling effect not just to internet-based publishers but to all publishers."