Thousands of NHS junior doctors have threatened to strike for three days in December across England as their contract dispute with the health service escalates. The British Medical Association (BMA), which represents 30,000 of the medics, described the move as "extraordinary".
But the demonstration will only go ahead if a majority of the junior doctors vote for the industrial action in a ballot, which closes on 18 November at 5pm GMT. The row broke out after the BMA warned, among other things, the new junior doctor contract could lead to the medics working more hours.
But the Department of Health has claimed the new agreements would be safer than the existing contracts and would see a vast majority of trainees seeing an increase in their pay.
The BMA has warned its junior doctor members would only provide emergency care from 8am GMT on 1 December to 8am GMT on 2 December and the action will be followed by two full strikes between 8am and 5pm GMT on 8 and 16 December.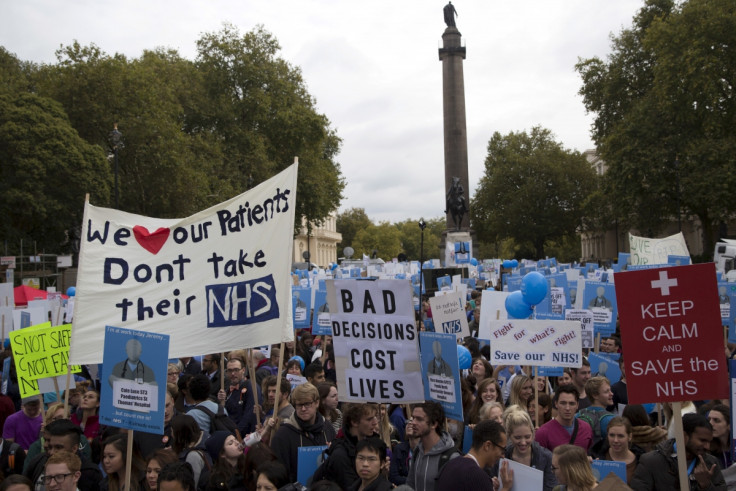 "We are releasing this information at this early stage because we want to give as much notice as possible," said Mark Porter, the council chair of BMA England.
"It sounds like an oxymoron when talking about industrial action, but we genuinely want to minimise any disruption to other NHS staff and, above all, to patients. Our dispute is with the government and our ballot for industrial action is a last resort in the face of their continued intransigence."
Health Secretary Jeremy Hunt blasted the proposed walkout, which will come after a protest by the medics in October, as "extreme" and "totally unwarranted". The top Conservative added: "Refusing to talk to a government that wants to improve weekend care for patients and reduce doctors' hours can only damage the NHS. Rather than striking the BMA should return to the negotiations they walked away from a year ago and put their patients first."