Doctors threaten to cut care to 'Christmas day' levels in row over pay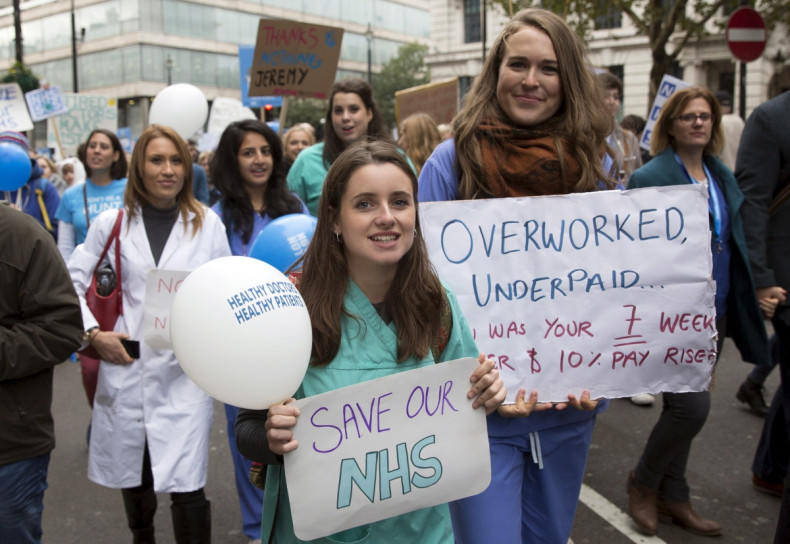 Doctors are threatening to reduce the NHS to a "Christmas day" service in a row over pay and conditions stipulated in a new contract touted by the government. Health secretary Jeremy Hunt wants to limit overtime payments to doctors until after 10pm on Saturday evening to encourage more doctors to work weekends – in a precursor to his plans for a "seven-day NHS".
The Conservative MP wants to stop hospitals being fined for allowing doctors to work long overtime shifts. Hunt argues that basic pay would improve with the new contract and this week promised that no junior doctor working within contracted hours would see their pay fall.
But the British Medical Association says that the new contract "rides roughshod over the best interests of doctors, of patients and of the NHS as a whole." And it wants assurances that unsocial hours will be recognised with extra pay and that proper "safeguards" are in place to protect patients and doctors.
Dr Johann Malawana, chair of the Junior Doctors Committee, said of the industrial action: "This is not a decision that we have taken lightly, but the government's refusal to work with us through genuine negotiations and their threat to impose new contracts that we believe are unsafe for patients and unfair for doctors, leaves us with few options.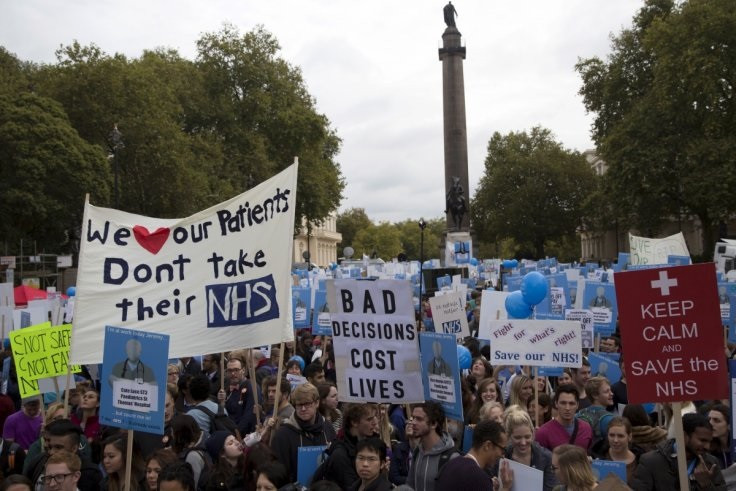 Protesters support of junior doctors in London
Reuters
"The health secretary has accused junior doctors of misleading the public over the impact of his changes, yet at the same time he continues to conflate junior doctors' legitimate concerns and the government's rhetoric on seven-day services.
"The truth is that the junior doctor contract is in no way a barrier to seven-day services, with the vast majority of junior doctors routinely providing care to patients 24/7."
In a letter to Dr Malawana, Hunt says he will be "setting out the full details of the Government's contractual offer to junior doctors in the coming days". He adds: "I sincerely hope that on the basis of these assurances you will reconsider your refusal to enter negotiations."
Hunt said that he hopes the new contract would improve patient safety by better supporting a seven-day NHS and that it would mean no doctor in training would be required to work more than an average 48-hour week with a new maximum 72-hour working week.
The changes proposed by Hunt are aimed at saving the NHS £22bn ($34bn) as the government clamps down on the deficit. The NHS is expected to report a £2bn full year loss over 2015, as spending continues. Trainee doctors are paid less than £23,000 a year and wages can go up to £30,000 after four years of experience.
The BMA has handed out leaflets with ballot papers, that state: "We are proposing the emergency care model in the first instance, with the possibility of adopting other forms of action after this (such as a withdrawal of all junior doctors' labour). The emergency care model is based on whatever happens in your specialty, in your hospital or GP practice on Christmas Day."
A ballot to vote for industrial action opens on Thursday 5 November and the ballot will close on Wednesday 18 November.