This image of the Jurassic Park series' iconic Velociraptor may be our first glimpse at a new dinosaur from Colin Trevorrow's fourth in the series Jurassic World.
Posted on Instagram and later brought down, the image originated from Valencia, California according to JoBlo.com, which is where the Legacy Effects studio who have been working on the movie is based.
On Instagram the image's caption read: "This is an actual Velociraptor for the upcoming film Jurassic World! #jurassicworld #dinosaur #universalstudios #StevenSpielberg #Velociraptor #HYPE"
Here is the full image...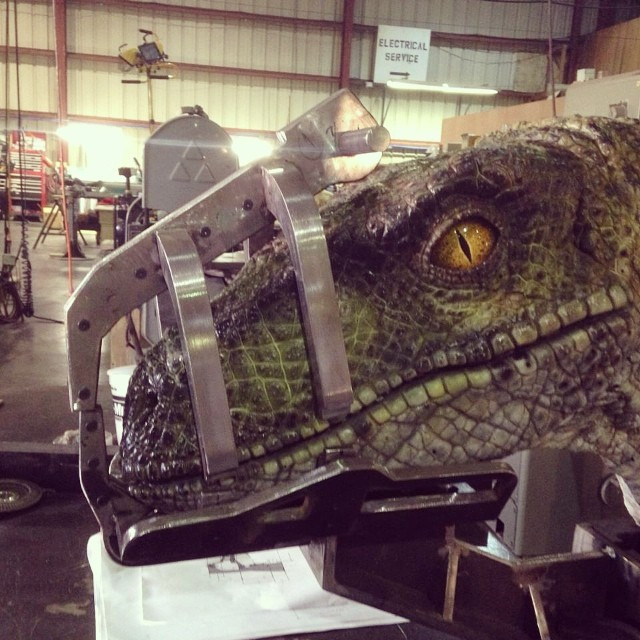 Right now there's little reason to doubt the picture, as it doesn't appear to be of a velociraptor previously seen in the series. In the original they were a greyish colour, in The Lost World they were redish and in Jurassic Park III they were a mix of blue-grey and beige.
There's not much else to decipher from the picture other than the possibility of that metal muzzle being part of a prop used in the film. Either that or it's part of the model's at-home set-up. Should the image be legit it'll certainly be popular with fans of the series who were hoping for the use of practical effects rather than CGI.
We won't have long to wait until we see one of the dinos for the first time, at least according to Phil Tippett, who last month teased the appearance of a Raptor at this month's Comic Con convention in San Diego.
Colin Trevorrow's film stars Chris Pratt, Bryce Dallas-Howard, Nick Robinson, Ty Simpkins, Vicent D'Onofrio and Irrfan Khan. Trevorrow recently confirmed it would be set on an up-and-running theme park called Jurassic World and teased a dinosaur's shadow on Twitter.
Jurassic World is set for release on 12 June 2015.