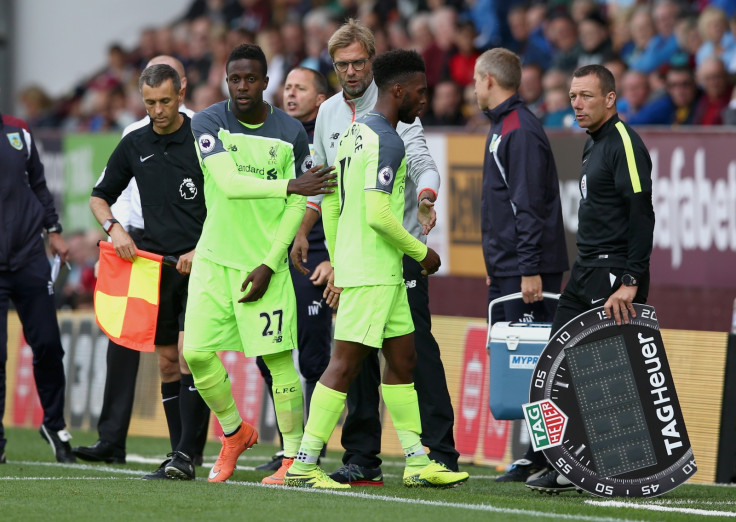 Liverpool manager Jurgen Klopp remains relaxed regarding recent comments made by Daniel Sturridge. The injury-plagued striker scored a late brace off the bench during Tuesday's (23 August) 5-0 mauling of Championship relegation favourites Burton Albion at the Pirelli Stadium and subsequently made headlines by revealing his disappointment at being asked to play out wide.
"Well, I have to do a job for the team," he said after revealing that it was more difficult to make the same impact on the wing as in his favoured position up front, where he claims to be on autopilot. "That's not saying I am happy to do it. That's saying I have got to do a job for the team. It's a team game. If I am put in that position, I have to play there."
Sturridge was deployed on the right flank during last weekend's disappointing visit to Turf Moor, where Liverpool suffered a surprise 2-0 defeat at the hands of newly-promoted Burnley despite dominating possession and taking 26 shots on goal. The England international was replaced by Divock Origi after 65 minutes of a rather ineffectual performance and Klopp stressed that he does not wish to utilise him exclusively out wide.
"I don't want to play Daniel as a wide player, but of course he can start there," he was quoted as saying by the Liverpool Echo at a press conference held before the Premier League trip to Tottenham Hotspur on Saturday. "Of course he can play there. In the decisive moments, he needs to be involved in all the finishing situations. I think both goals he scored were inside the box, so he was not on the wing at this moment. That's flexible football.
"But of course you need to find a formation where players can start, where your style of play can start. Both games, Burnley and Burton, were games where we didn't actually need offensive wingers. These positions should have been filled up by full-backs or players from other positions. Then you have these players who are really skilled in finishing situations in and around the box. That's how football works and it's not a fixed position, stay outside and wait until you get the ball, especially not in Daniel's case.
"That's absolutely no problem. That's why I said we have still to work on a lot of things. I don't know exactly what he said, but when we have talks there's no issue about it. It's about asking questions, getting an answer and then make a big thing of it or don't think about it. That's nothing."
When asked to confirm that Sturridge has not expressed that frustration to him personally, Klopp added: "Of course not."
With regard to potential outgoings before the summer transfer window closes next week, the manager also revealed that he currently has no plans in the event that the likes of Lazar Markovic and Mario Balotelli do not depart Anfield.
"How could I?," Klopp added before stressing that the squad should not be too big. "You have to make decisions about the squad and of course until 31 August everything is possible. When it's 1 September, then we have to analyse the situation and we have to think about what we would do then."