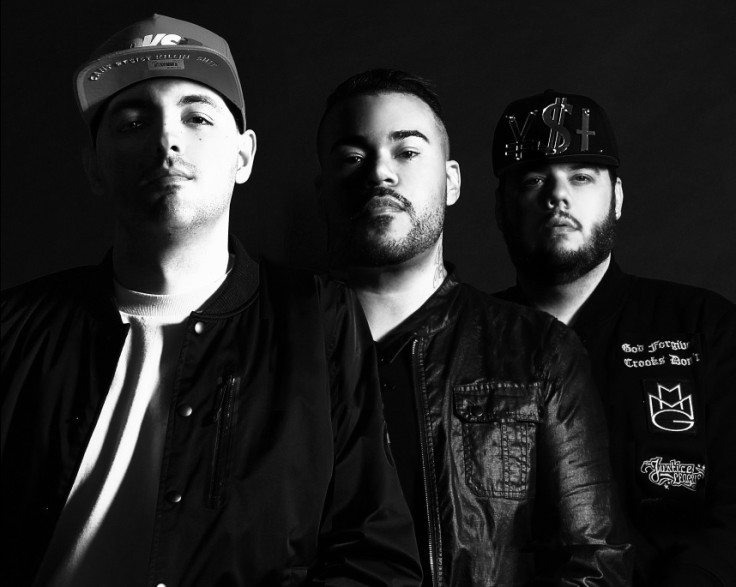 After surprising fans with a new LP jam packed with guest features that'll not only blow your mind but your speakers too, J.U.S.T.I.C.E. League's Rook Flair spoke exclusively with IBTimes UK to discuss the new project, its conception, old Drake verses, the controversies surrounding R Kelly and the production team's other endeavours.
Further adding to their legacy as one of the most prolific production crews in music, J.U.S.T.I.C.E. League, comprising Erik "Rook" Ortiz, Kevin "Colione" Crowe and Kenny "Barto" Bartolomei, unveiled their first official LP, J.U.S.T.I.C.E. For All. However, it was not released through the usual channels such as iTunes or Soundcloud – the talented trio offered the 13-track project as a free bonus to those who purchased their Catalog Classics Vol. 1 sound kit.
"It was an idea we've had for a while," Rook says of the LP. "We had these songs that we had been working on for years, as well as new stuff and stuff that just never came out, so we were like 'You know what? We might as well let people hear it because the s**t is dope, like it's super dope'. So we wanted to let the people hear it instead of just letting it sit on a shelf."
Collaborating with industry heavyweights
So why the decision to give an album featuring heavy hitters such as Drake, Future, Rick Ross, Jeezy, R. Kelly, Lupe Fiasco and more for free? "There's a lot of logistics behind putting all those artists that we have on the album," explains Rook. "We can let people hear it without having to go through all the red tape."
Going on to explain that the group obtained permission from all the artistes featured personally, one of the biggest names on the project appears on the very first track. Empire is a gritty street banger typical of Rook and the rest of the crew, and it sees regular J.U.S.T.I.C.E. League collaborator Rick Ross paired with Drake.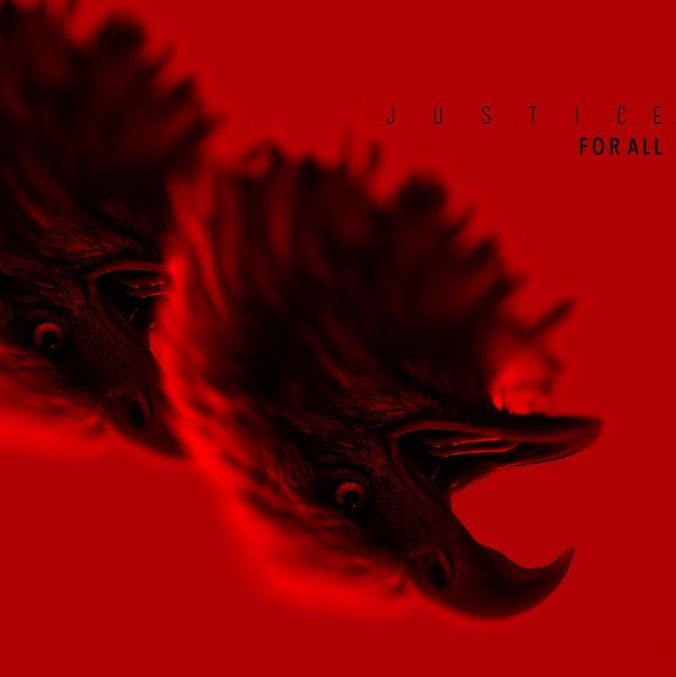 "We used to work with Drake a lot when he was working on So Far Gone," Rook says referencing Drake's breakthrough 2009 mixtape. "So we had quite a few sessions with him and we figured it was time to let people hear how dope he was back in the day." It's at this point the question is raised whether or not Drake was better back then or now. "I guess it's all up for interpretation by the individual listener. Some people thought he was doper then, some people think he's doper now," Rook responds.
Confessing to "Frankenstein-ing" various parts of J.U.S.T.I.C.E. For All by piecing together old verses and recycled material, some of the content included was recorded specifically for the LP according to Rook. "The Lupe Fiasco and Future record is new," he says referring to No Problems. "Also the joint Punchlines, which features Math Hoffa, Loaded Lux, Soul Khan and Lupe Fiasco. The Future stuff is all new too. We have a great relationship with him."
Negativity free zone
Besides Chris Brown, who appears on two of the LP's cuts – one of which is an updated version of All I Need, a track J.U.S.T.I.C.E. League produced for Brown's recent Before The Party mixtape – another big name r'n'b star who appears on J.U.S.T.I.C.E. For All is R Kelly. Asking Rook if the recently reignited controversy surrounding the singer and his past child sex abuse allegations was on his mind or even made him question featuring him on the album, he had a little bit to say on the matter.
"It never crossed my mind," he says. "You can't be guilty by association. As long as the music is good on our end then we're good. I don't want to belittle any situation and I definitely don't want to belittle that situation but this is a showcase of our music. We don't want to showcase any negativity or anything like that."
As for the sound kit that the album comes with, budding producers are treated to more than two dozen drum kicks, snares and melodies from an array of hits, including Rick Ross's popular Maybach Music Vol. 1 and Aston Martin Music, as well as Machine Gun Kelly's recent smash Till I Die. Available for $40 (£28), you can purchase it on J.U.S.T.I.C.E. League's website, where it's all about giving back to producers.
"We offer sit in sessions with us," Rook explains. "We offer Skype sessions with us. It's about giving back to the producers. It's something that we've always believed in, so now we're more accessible to people instead of just being available on Twitter, Facebook or Instagram. We're more accessible on a personal level."
Making a statement and changing the game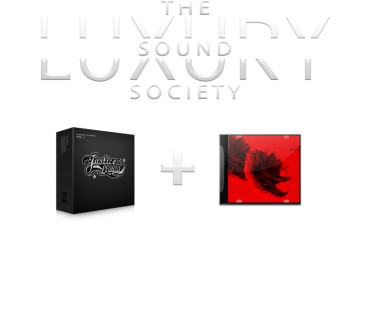 Speaking on the sound kit itself, Rook says: "It's the very first J.U.S.T.I.C.E. League sound kit. We've been toying around with the idea of doing a sound kit for a long time. It includes isolated sounds from some of our hit records.
"Producers can use them on their own productions with their own style and their own flavour. It took us a while because we wanted to do something important, which is include a graphical user interface (GUI) with the sounds, so it's not just actual WAV files.
"So when you load it up in your computer, there's a GUI that people can use and we've included our own personal reverbs, our own personal effects, basically. It's the first of its kind."
Besides working with some of hip hop's elite, the Grammy-winning production team also doubles as the Lazy Americanz. A live incarnation of J.U.S.T.I.C.E. League, it's completely different to what long-time fans have come to expect from the Floridians. "It's totally different music," Rook says with a smirk.
"It isn't hip hop or r'n'b or anything like that. It's more new wave house, funk, disco kinda stuff. It's danceable stuff, happy music. You know? But very organic and electronic with live instruments and well written songs. It's pretty amazing. The self-titled EP is available everywhere right now."
With an insanely busy year ahead, Rook says he and his two partners are just looking to make an impact with their music. "When we first came into the game, we made a statement. It was like, 'Yo, these dudes they've got trombones, they've got flutes, they've got guitars and all this other stuff'. And that's the statement we want to make again.
"The statement was first made 11/12 years ago. Now in 2016, we wanna influence a newer generation but still be cool, still make good music, still make trendy music. We kinda know what we're doing... sometimes."
---
Will Lavin is a Hip Hop Music & Lifestyle Specialist of 10 years. A 2015 IMC award winner, he's written for publications such as Vibe, XXL, Complex and Blues & Soul. He's worked with artists such as Chaka Khan, Timbaland, will.i.am. and Chris Brown. He also runs illwill.co.uk.
---