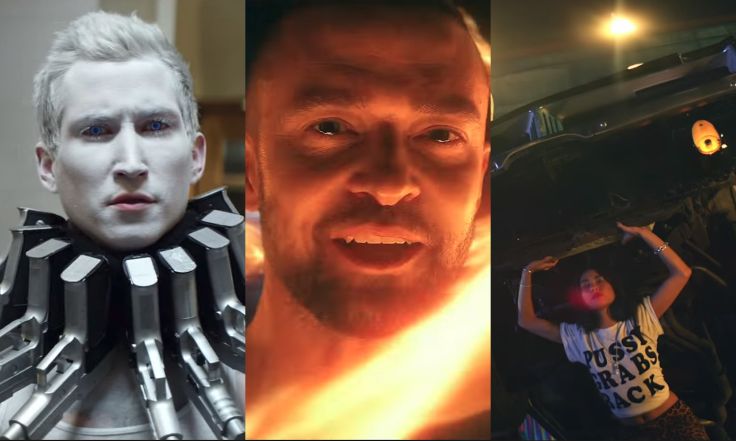 Justin Timberlake's video for new single Supplies has been ridiculed online after its debut yesterday (18 January), with one person describing it as "the Kendall Jenner Pepsi ad of music videos".
Supplies is the second single from Timberlake's upcoming fifth studio album Man of the Woods, and it's all about the pop star's skills in the bedroom. The video, however, is charged with political imagery that doesn't quite match the tone of the song. Or any song.
The video opens with Timberlake in front of bank of televisions showing footage of President Donald Trump, political protests, sexual predator Harvey Weinstein and members of the KKK.
It then cuts to a succession of scenes including albino alligators, a man painted white wearing a bunch of handguns as some kind of choker and people praising an Illuminati pyramid.
There's also the imagery of burning money raining down from the sky, a woman in a t-shirt that reads 'Pussy Grabs Back' lifting a car above her head and a post-apocalyptic vision of the future that looks equal parts Mad Max and Blade Runner 2049.
The video ends with a young survivor of this post-apocalyptic world, no more than 7 years old, turning to the camera and saying: "Just leave. Die already. You're still a slave. Wake up."
Is Justin Timberlake telling us all to stay woke? Yeah. It's not exactly subtle.
"Just made a coworker watch that new Justin Timberlake 'Supplies' video, to make her experience the awful with me," wrote Twitter user Sam Sanders. "Her feedback: 'It's like the Kendall Jenner Pepsi ad of music videos.' I agree."
Pepsi was widely ridiculed for an ill-judged advert released last year in which Kendall Jenner defused tensions at a political protest by offering a police officer a can of the sugary soft drink. The ad was removed almost immediately and Jenner apologised.
Twitter user Mike Ryan wrote: "Guys I've watched the new Justin Timberlake video a couple times today... I just get more confused with each viewing.
"What's his message? Is his statement just ALL THE STATEMENTS? What do any of these visuals have to do with a song that is pretty clearly just about sex? Help me."
The song includes lyrics like: 'Cause I'll be the light when you can't see / I'll be the wood when you need heat / I'll be the generator, turn me on when you need electricity.' The message it seems is: 'The world might have gone to pot, but at least Justin Timberlake is good at sex'.
Timberlake's new album is set for release on 2 February, two days before his half-time show at this year's Super Bowl, which will be watched by millions around the world.