Fox News has deleted a tweet after being challenged by Canadian Prime Minister Justin Trudeau. The news channel had falsely identified a white French-Canadian accused of killing six people at a mosque in Quebec City as Moroccan.
In a letter to Fox News Channel co-president Bill Shine asking the network to remove the tweet, Trudeau's office also challenged the policies of President Donald Trump.
"These tweets by Fox News dishonour the memory of the six victims and their families by spreading misinformation, playing identity politics, and perpetuating fear and division within our communities," wrote Trudeau's director of communications.
"We need to remain focused on keeping our communities safe and united instead of trying to build walls and scapegoat communities," the letter continued, referencing President Trump's executive orders to build a wall on the US border with Mexico and ban travellers and refugees from seven Muslim countries from entering the US.
The original tweet by Fox News sent out on Monday said: "Suspect in Quebec mosque terror attack was of Moroccan origin, reports show."
Alexandre Bissonnette, a young, white, French-Canadian, is charged with six counts of first-degree murder and five of attempted murder by Royal Canadian Mounted Police. On Sunday 29 January Bissonnette allegedly opened fire inside a Quebec City mosque, killing six people and wounding 19.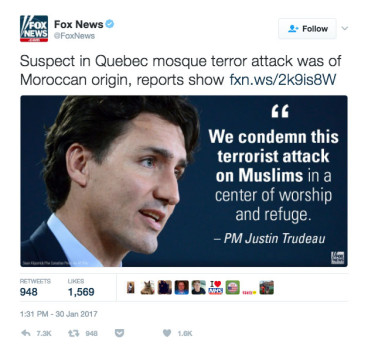 Bissonnette "really liked Trump and had a permanent grudge against the left," said Éric Debroise, who knew the suspect, in Le Journal de Quebec. He described him as a "very right-wing and ultra-nationalist white supremacist". A classmate of Bissonnette's at Laval University described the shooter's ideology as "right-wing, pro-Israel, anti-immigration political ideas".
The Prime Minister's office letter told Fox News that "ramping up fear and closing our borders is not a solution. It distracts from the real issues that affect people's day-to-day life".
Canada, it said, is "a nation of millions of immigrants and refugees, of hundreds of cultures, languages and religions bound by one, unwavering, unshakeable belief: we are stronger not in spite of our differences, but because of them".
FoxNews.com's managing director Refet Kaplan issued an apology for the tweets late on Tuesday. "FoxNews.com initially corrected the misreported information with a tweet and an update to the story on Monday," Kaplan said, adding "the earlier tweets have now been deleted. We regret the error".