Juventus could be without Paulo Dybala for the Champions League round-of-16 clash against Tottenham next month after the forward picked up a thigh injury over the weekend.
Dybala, 24, pulled up after a sprint and appeared to be in tears as he left the pitch during the second half of Juve's 1-0 win at Cagliari on 6 January, with the London Evening Standard reporting that the player could be sidelined for up to five weeks.
The Italian champions host Tottenham in Turin in the Champions League round of 16 first leg on 13 February, with the return leg scheduled for 7 March.
"Paulo Dybala underwent an MRI this morning which showed a mild to medium strain to his right thigh flexor," a Juventus statement reportedly said.
"He will immediately start rehabilitation with the prognosis for return better evaluated in the coming days."
Dybala has been linked with a £90m ($122m) move to Manchester United, although Juventus have insisted that the forward is not for sale.
After Barcelona announced they had agreed to sign Philippe Coutinho from Liverpool in a £142m deal on 6 January, Juve sporting director Giuseppe Marotta was asked what price Juventus would demand Dybala.
"We haven't put a price tag on Paulo, so it's difficult to make an assessment," he was quoted as saying by Football Italia. "We have no intention of putting him on the market."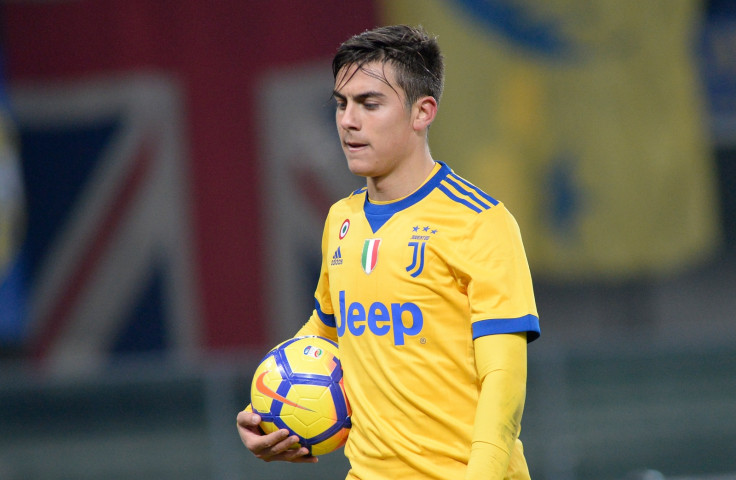 Meanwhile, Juventus coach Massimiliano Allegri claimed Dybala could not play as an out-and-out striker for a "big club" and was more suited to playing a deeper role.
The former AC Milan boss added that Dybala's form had taken a hit this season due to him being compared with Barcelona forward Lionel Messi and Real Madrid's Cristiano Ronaldo.
"The comparisons which were made at the start [of the season] were damaging for Paulo, but fortunately he's a smart lad and he understands you can't compare a lad of 24 to two sacred monsters of football who have won 10 Ballons d'Or," Allegri was reported as saying by Goal.
Juventus are second in Serie A, one point behind Napoli.