Karen Harding apologises for embarrassing FA Cup final performance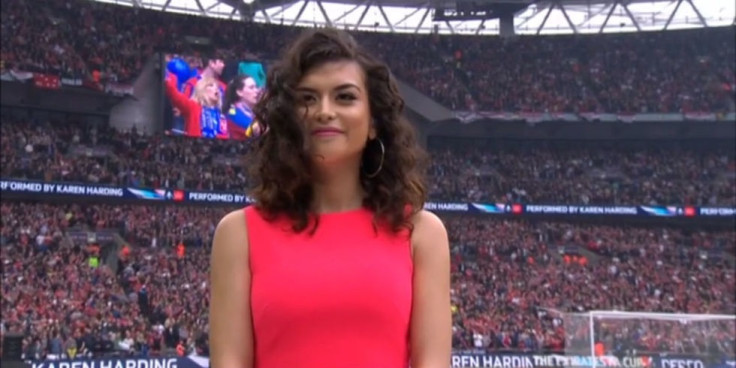 Karen Harding has said she is 'mortified' after her disastrous performance of the national anthem at the FA Cup Final. The 24-year-old, who was performing before the match between Manchester United and Crystal Palace at Wembley, stood in awkward silence, apparently waiting for her cue.
Missing the entire opening verse, she bravely continued with the final part of the song. Following the embarrassing performance, she tweeted her dismay, attributing the epic fail to technical difficulties as she admitted to screwing up a 'once in a lifetime chance' to perform at Wembley.
"Oh My God. Biggest audience of my life and I get technical difficulties! Argh so sorry Guys!!!" she said.
Before taking to the hallowed turf, the X Factor singer had expressed her misgivings about a possible live mishap. "The main thing is not being able to hear myself ... there's going to be so many people singing it back," she said.
Her worst fears were unfortunately realised, as she was drowned out by the 90,000-strong crowd. BBC commentator Guy Mowbray sympathized with the singer commenting: "There's a lot of noise around the place, it's easy to miss your cue."
However, it was a low point in an altogether shambolic pre-match show which was widely mocked on social media. South London rapper Tinie Tempah also incurred public ridicule after he walked onto the pitch brandishing his mobile phone and wearing a jacket that looked like it was made of tin foil
Viewers criticised the pre-match performance which appeared to be a lacklustre attempt to emulate the extravagant Super Bowl half-time show.
Alan Green, commentating on the game for BBC Radio 5 Live, summed up the public sentiment best. "Whoever was responsible for the [pre match show], an utter shambles, should go away now and lock themselves in a darkened room," he said.
Meanwhile, on Twitter, while some expressed sympathy for the Say Something singer, others went to town to mock Harding. To her credit the singer, who posted a video of how the anthem would have sounded had things gone to plan, responded with good humour to the criticism and expressed her gratitude for the public support in the face of her blunder.
© Copyright IBTimes 2023. All rights reserved.