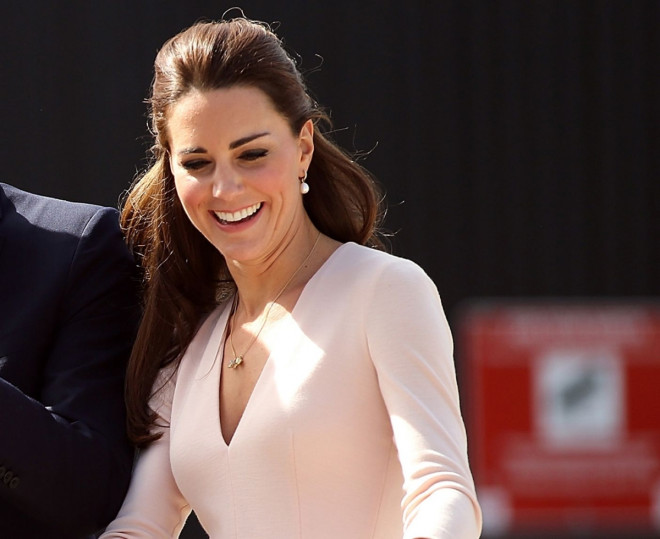 The Sydney Daily Telegraph has decided to publish a photo showing a glimpse of Kate Middleton's bare bottom - refusing to follow "an antiquated code of etiquette" set by the British media.
In an unexpected about-turn the Murdoch-owned paper, after what was widely considered a successful tour for the royal couple Down Under, has published the controversial photo a day after it first appeared in German tabloid, Bild.
The picture, published under the heading 'Butt Don't Mention Ze Phwoar!!' shows the Duchess's summer dress being lifted by a gust of wind from the propellers of a helicopter after she disembarked on a visit to the Blue Mountains, west of Sydney.
No British magazine or newspaper would publish the photos so they were sold overseas in a move that is said to have upset Prince William and Kate.
"Why would the cheeky French, German and American media, with no Commonwealth ties to Britain, be expected to honour such an antiquated code of etiquette?" commented Annette Sharp in the Daily Telegraph.
"Why should the media be responsible for turning a blind eye when the royals aren't always vigilant about keeping themselves nice?"
She then berates the likes of Prince Harry who was photographed naked in Vegas as another reason it was "ridiculous" to honour "do not publish" conventions.
"If the Duchess can't be bothered protecting herself by having hem weights sewn into her garments, why should the media protect her?" she added.
Amateur photographer Diane Morel, 47, told the Australian newspaper: "It wasn't until I got home that I realised what I had captured.
"Kate and William spent so much time speaking to the victims of the bush fires that I decided I would donate any money raised from the sale of the photo to the Blue Mountains Bushfire Mayoral Relief Fund."
The last time the Royal couple won a privacy row was when the French edition of Closer magazine published topless photos of her on a private estate in September 2012 while on holiday in Provence.