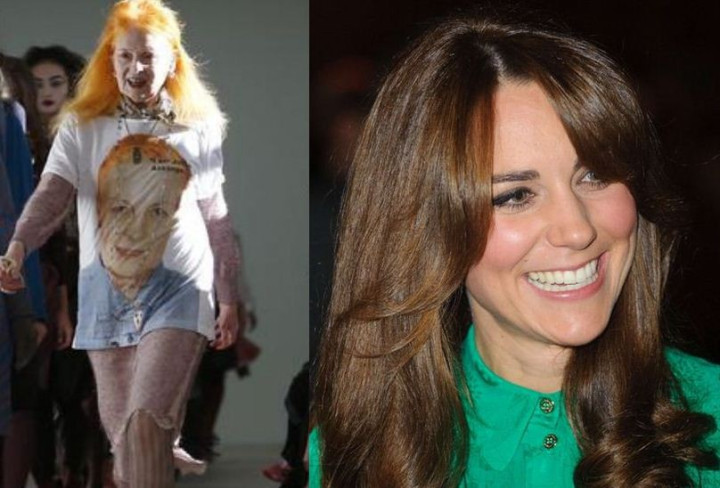 Kate Middleton is known for repeating her wardrobe at various occasions, varying from public engagements to royal family ceremonies, without losing poise, elegance or style. She has also earned herself the tag of a global fashion icon by subscribing to both off-the-rack dresses and designer labels.
However, fashion designer and environmental activist Vivienne Westwood has advised the Duchess of Cambridge, who is expecting her first child in July, to recycle her outfits more often to help the environment.
"I don't have any advice to her, except I think it would be great if she wore the same clothes over and again, because that's very good for the environment and it would send out a very nice message," Westwood said, before her Red Label fashion show at the London Fashion Week.
"If you're going to all that trouble to get an outfit that suits you, then you should keep on wearing it," she said, adding, "I mean you don't have to have a red outfit one day and then something almost the same in blue the next."
Westwood has previously criticised Kate's fashion and style sense in an interview with the Sunday Times Magazine in 2011.
"I think she's got a problem with eye make-up!" Westwood said of the Duchess of Cambridge then, "The sharp line around her eyes make her look hard. Either she should be smudgy or wear none."
"Let me put it this way. It seems to me, that her image is 'ordinary woman'. Therefore, high street shopper. And I just think she should be an extraordinary woman, wherever she gets her clothes from," she added.
At the fashion show, Westwood's creation was dominated with plum, teal and metallic shades with a series of figure-hugging dresses and nipped-in jackets. The 71-year-old designer also made headlines by wearing a t-shirt with an image of herself looking like WikiLeaks founder Julian Assange, with a slogan that reads "I'm Julian Assange".