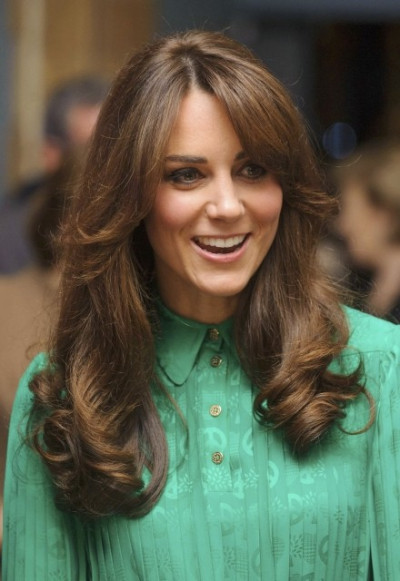 Kate Middleton seems to have found a stylish way to beat the winter blues, ahead of cold days and freezing nights that parts of England and Wales are set to experience.
Catherine, the Duchess of Cambridge, has undergone a rather glamorous makeover recently and has been spotted in a new hairdo at her past few engagements. And to add more radiance to her latest style statement, Kate has been wearing winter's gloominess-defying, vibrantly coloured dresses.
The Duchess has had her front tresses flicked, up to her chin line, while retaining her long, layered locks at the back. And, as is typical with the effect of flicked hairdos, the hairstyle makes Kate's face look slimmer than before. The Duchess' new look is reportedly the work of one of Kate's favourite hairdresser, Richard Ward, who has a salon off Sloane Square.
Kate Middleton first stepped out in her new hairstyle at the Millennium Stadium in Cardiff on 24 November. She was there along with Prince William to attend the Autumn International rugby union test between Wales and New Zealand. Kate made sure her new hairdo stood out as she wore a vibrant red coat dress to the event.
The Duchess' new hairstyle became more obvious during her visit to the Natural History Museum earlier this week. Kate, who opened the museum's Treasures gallery, flaunted her hairstyle well this time with curled lower locks and her usual glossy blow-dry, which did wonders to her flicks. Continuing her winter trend of bright dresses, Kate wore a green Mulberry dress with pleats and high collar.
Most recently, the Duchess wore an ivory pink coat dress and took Cambridge in style in her new look. William and Kate visited the city on 28 November, their first official visit together to Cambridge since their wedding.
Click on Start to view the latest photographs of Kate Middleton in her latest fashion avatar...