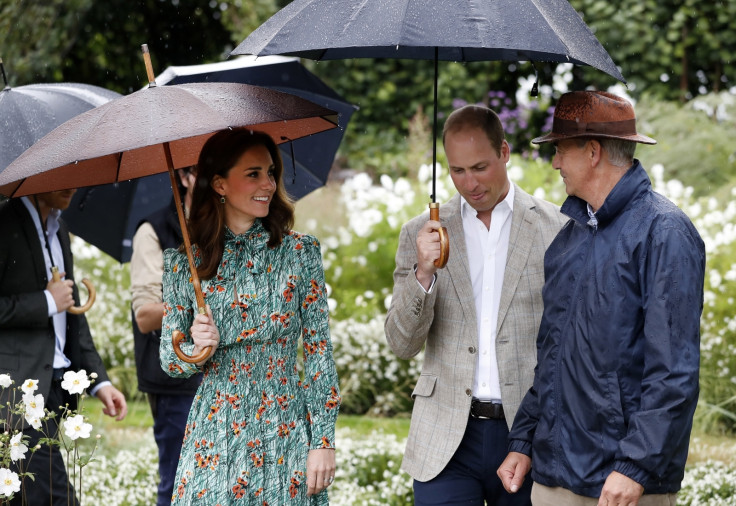 The rain and chilly London weather did not stop the Duke and Duchess of Cambridge and Prince Harry visiting the memorial garden for Diana, Princess of Wales at Kensington Palace today (30 August) ahead of the 20th anniversary of her death.
The royals appeared in high spirits holding their own umbrellas to shelter from the drizzle as they toured the White Garden which was planted in Diana's memory with her favourite flowers after she died in a Paris car crash on 31 August 1997.
Kate, William and Harry have no doubt acknowledged the floral tributes that members of the public have left at the gates of the Palace, which is a bittersweet reminder of the mountains of flowers left by the grieving nation in the week after she died.
The engagement also saw the young royals meet representatives from six of the charities closest to Diana's heart as they celebrate her life as a role model and devoted campaigner for unfashionable causes as well as a devoted mother.
Kate, 35, did not let the miserable weather hold her back in terms of her fashion choices, with the mother-of-two clad in a summery blue poppy print dress by Prada, which retails for £1,420.
The duchess, who continued her running theme of literal dressing for the walk around the gardens in the botanical-inspired ensemble, oozed elegance in the stylish silk-crepe number that fortunately had long-sleeves to protect her from the cold breeze. In true Kate style, she completed the look with nude court shoes and wore her hair in a bouncy blow-dry.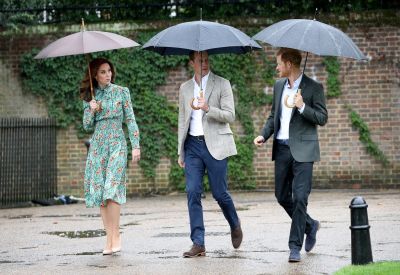 Royal commentator Richard Fitzwilliams remembers Diana's "special magic" on the eve of the 20th anniversary of her death, telling IBTimes UK: "Diana did need her royal title to generate her own special blend of magic but this gave her both anguish in her private life in her nightmare of a marriage and the ability to champion her causes worldwide as a member of the world's most high profile royal family.
"It made her the most hunted person of the modern age by the media but her relationship with them was of necessity fatefully symbiotic, she needed them to champion her causes and she needed the hype but could not control it."
He added: "What was so magical was the mix of glamour and commitment, of a style that set trends and sold magazines and a determination that broke down boundaries which helped so many of the less fortunate."
The princes have both taken part in a series of candid interviews about the loss of their mother in the run up to the sad remembrance, with Harry revealing that he went through two years of "total chaos" and William opening up about his mental health struggles following her sudden passing when he was just 15.