The Duke and Duchess of Cambridge are expecting their third child, Kensington Palace announced on Monday (4 September).
"Their Royal Highnesses The Duke and Duchess of Cambridge are very pleased to announce that The Duchess of Cambridge is expecting their third child. The Queen and members of both families are delighted with the news."
The announcement came days after Kate was admitted to hospital. During the early stages of both her pregnancies, she suffered from hyperemesis gravidarum, a severe form of morning sickness, and had to be admitted to the hospital.
The Palace also confirmed that "Her Royal Highness will no longer carry out her planned engagement at the Hornsey Road Children's Centre in London today. The Duchess is being cared for at Kensington Palace."
The royal couple are already parents to Prince George, 4, and Princess Charlotte, 2. Although no further details were revealed, the new addition is expected early 2018.
The baby news comes days before George's first day of school, with the heir to the throne due to enrol at Thomas's in Battersea on Thursday. The Duke and Duchess will accompany him to the £6,000-a-term school in his brand new uniform.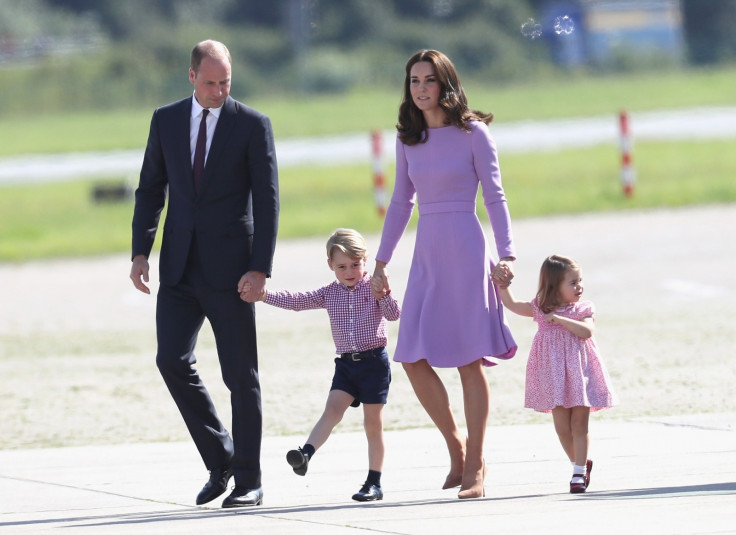 Kate has been batting away baby rumours for months, with a source recently telling Us Weekly that they started planning for a third child right after they welcomed Princess Charlotte in 2015. "She wanted another almost since giving birth," the insider was quoted as saying. "They promised each other they wouldn't even think about having another child until they were mentally ready and it felt right.
The source stated that they were finally ready to add to their brood because they feel like "now is definitely that time".
The mother of two previously joked to one of our royal insiders that William was not particularly eager regarding a third baby. She said: "If I got pregnant now... I think William would be out the door!"