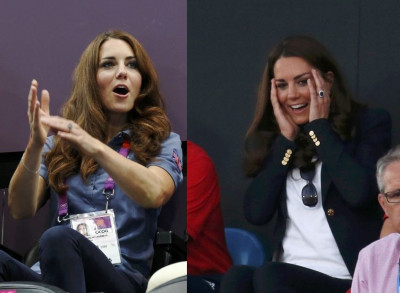 Kate Middleton was as much an attraction at the London Olympics 2012 as the athletes who won medals for their country. Catherine, the Duchess of Cambridge, attended most of the sporting events through the course of the fortnight-long gala, which finished with a spectacular closing ceremony. Kate was clearly enjoying the spirit of the Games and was seen applauding and cheering on the athletes and empathising with their hits and misses.
Some of Kate's more candid moments were during the track cycling event, when the Duchess, along with Prince William and Prince Harry, cheered for the British team. She was also seen at group games for the men's hockey match between Great Britain and Pakistan and the look on the Duchess' face, herself an avid hockey fan, said it all. On that occasion, she was with Princess Anne.
Other events the Duchess was seen at include the handball preliminaries for the women's competition (Great Britain vs Croatia) at the Copper Box, the semi final and the bronze play-off for the women's hockey event between Great Britain and Argentina and then New Zealand, respectively, at the Riverbank Arena Hockey Centre and the closing ceremony of the London Olympics 2012 at the Olympic Stadium.
Now that the London Games are over, IBTimes UK presents a photo archive of Kate Middleton and her 'Oh My God' moments during the London Olympics 2012. Click Start to view the slideshow