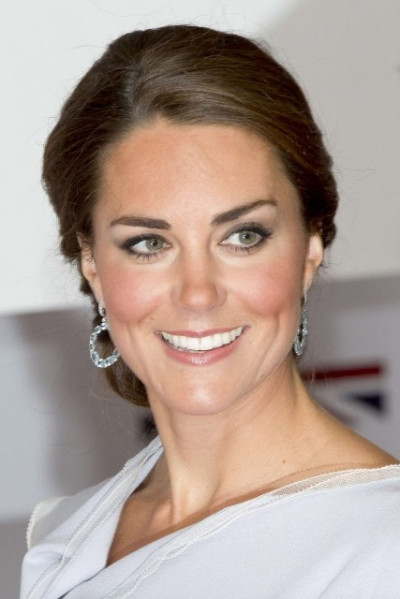 Kate Middleton's fashion style for the summer revolves around the twin ideals of subtle colours and celebrating the London Olympics 2012. The Duchess of Cambridge has been seen in light-hued dresses and sporting earrings resembling Olympic rings.
The most recent spotting of her new style was for the UK Creative Industries Forum, at the Royal Academy of Arts on Monday. Kate wore a dove grey dress by Serbian designer Roksanda Ilincic, which she attended alone. The dress was one of those she wore on her trips abroad last year - she wore it on arrival in Los Angeles, during a tour of the US in July, her first official overseas tour after marrying Prince William. The Duchess completed the look, on that occasion, with a pair of grey suede heels.
Meanwhile, the diamond-studded Olympic earrings that stole the show when she was at the opening ceremony of the London Olympics 2012, was teamed then with an elegant hairdo - her tresses were swept back loosely to form a low bun rather than her trademark glossy hair - to better accentuate the earrings. The look for the opening ceremony was completed with another light-hued outfit - a pale blue Christopher Kane coat dress.
The trend of Olympic-themed accessories has been building up, so to speak, to its position of prominence in Kate's fashion wardrobe. There was an Olympic-themed exhibition at the National Portrait Gallery, held before the Olympics started, where she showed off a long gold necklace by renowned French jewellery house Cartier. The necklace, said to be from Kate's personal collection, bore five diamond-studded Olympic hoops and the Duchess wore it over an azure blue Stella McCartney crepe dress.
Click Start to check out the slideshow and look at photographs of Kate Middleton's fashion statements for the London Olympics 2012...