Kate Middleton Dresses Down for Cousin's Wedding
The Duchess of Cambridge was recently spotted wearing a simple floral dress and a grey coat, with her favourite LK Bennett shoes, for a wedding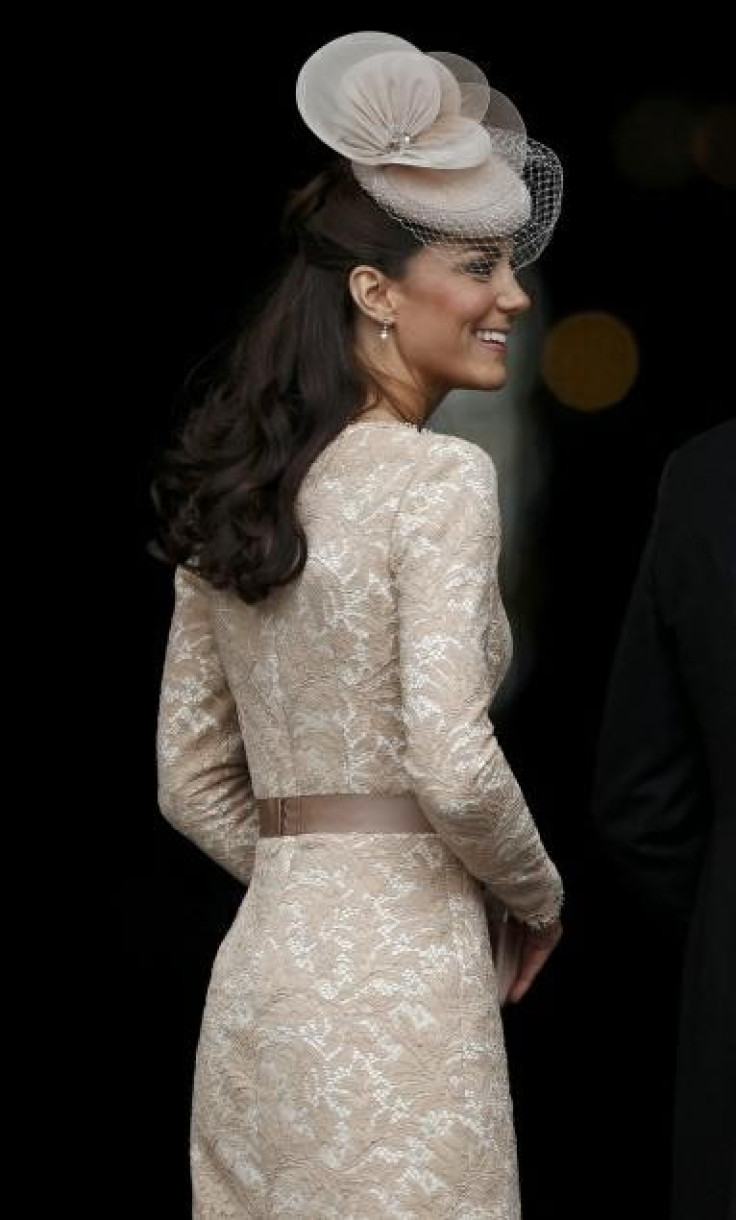 Is Kate Middleton showing a baby bump?
Reuters
Kate Middleton was spotted at her husband's cousin's wedding recently, wearing a simple floral dress, a grey coat and, of course, her favourite pair of LK Bennett shoes.
"Kate looked demure in her 'Sledge' LK Bennett heels, teamed with a simple floral dress and embellished coat. Her hair looked pretty and summery; half tied up in a plait around the crown of her head. Kate, 29, wore a beige hat and carried a pale grey clutch bag as William led her gently through the pretty churchyard. She completed the subtle look with pearl drop earrings and her signature black eyeliner," Entertainment Wise reported.
The Duchess of Cambridge, who was accompanied by Prince William, was at the wedding of George McCorquodale.
The by now well documented positive effect Kate Middleton has on style trends and the fortunes of clothing and accessories labels, designer or otherwise, is gaining even more momentum, particularly after the diamond jubilee celebrations. The Asda and Alexander McQueen outfits the Duchess wore during the Queen's 60th anniversary have each recorded significant increases in sales, as have the LK Bennett pumps, about which IBTimes UK earlier reported on.
What is new this time around, however, is what is rumoured to a baby bump on Kate Middleton. The royal couple have long been under pressure to announce their first child together. However, there is no official confirmation of Kate Middleton's pregnancy.
"She and Prince William have made no secret that they want to have a baby - they're hoping to make an announcement this year, while the queen is celebrating her diamond jubilee," a Royal insider told OK Magazine.
Incidentally, some tabloids speculate that although the bump is not actually a sign of pregnancy, it could be one of Kate preparing for one. It has been suggested the Duchess is too thin to have a baby and is putting on weight first.
"Her doctors have advised her to gain weight to improve her chances of conceiving. Wills has been encouraging her to eat more, saying how he prefers her with a little meat on her bones! Like any woman, she wanted to lose weight for her wedding dress. The trouble is she's just kept on dieting. These days her diet seems to be nibbling on healthy snacks all day. She'll eat a carrot or fruit and often skip meals altogether. When she does sit down with a plate of food, it's normally salad, or pasta or sushi - and the portions are rarely big," the same source told OK Magazine.
© Copyright IBTimes 2023. All rights reserved.