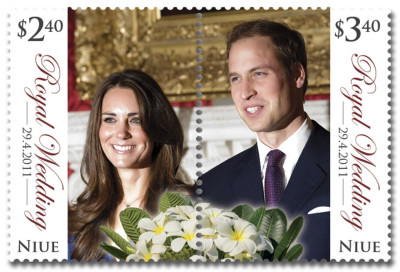 A year after captivating the world with the wedding of the century, Prince William and Kate Middleton are set to mark their first anniversary as man and wife and have reportedly planned to celebrate it "privately".
The wedding was a source of great celebration all across the world and was so marked by people keen to own a souvenir or memento of the occasion, something several organisations did. For example, the Royal Collection released an official china plate, tankard and a pillbox whose designs had been approved by the couple.
There was also a special edition of coins, with images of Prince William and Kate Middleton on one side and the traditional profile of the Queen on the other, ranging in value from £10 for a nickel coin to £1,550 for a gold-proof coin. In addition, the Royal Mail launched special sheet of Royal Wedding stamps.
There were some weird items on sale too - the Crown Jewels "condoms of distinction", knitted Will and Kate dolls, ashtrays with their images and even a comic book!
It is all set to start again, as their anniversary date is upon us and souvenir shops gear up for sales of these mementoes that they say continue to be a big hit.
"We sold a lot of souvenirs of Kate and William. We did very good business on the royal wedding day and still we are selling very good stock and people are buying them and loving them," Sadawad Shah, a souvenir shop worker was quoted as saying by City TV.
The duo had a fairy tale wedding at Westminster Abbey, witnessed by more than two billion people worldwide. The Duke and the Duchess of Cambridge, as they are now officially called, were under the public scanner all through their first year and came through with flying colours, winning everyone's heart. It wasn't just the public displays of affection... it was also the little things they did for each other that made them all the more popular.
A recap of all the royal memorabilia...