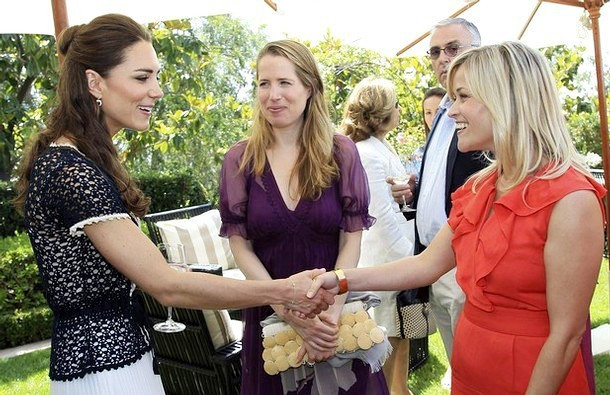 Kate Middleton and Prince William have reportedly sent Reese Witherspoon's new-born son Tennessee James a baby gift fit for royalty.
According to US magazine Star, the Duke and Duchess of Cambridge gifted the Hollywood actress's child a patriotic Union Jack baby-gro which included a personal hand-written note.
The Legally Blonde star is said to have become fast friends with the young royals last year when they visited Los Angeles durign their 2011 American tour.
The trio apparently hit it off so well that the 36-year-old invited them to her wedding to talent Jim Toth:
Witherspoon revealed last April: "I invited Katherine and Will to my wedding to Jim. I'm kind of bummed I'm not invited [to their wedding ]. My girlfriend asked me if I was invited. Well, no, but I invited them to my wedding!''
Witherspoon and Toth welcomed their little boy last month. The actress is already mother to 13-year-old Ava and eight-year-old Deacon, from her previous marriage to Ryan Phillipe.
Witherspoon's Water for Elephants co-star Robert Pattinson, who allegedly hid out at her California ranch following his break-up with Kristen Stewart, is said to have also nominated himself as a babysitter and showered her with gifts for her new born.
"Rob was one of the first to call and he even promised unlimited babysitting services. The baby is the toast of Hollywood," a source said.