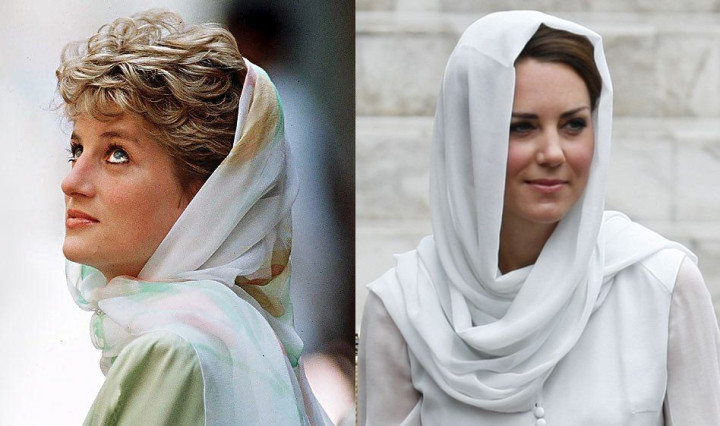 Kate Middleton looked beautiful and invoked charming memories of Diana, the Princess of Wales, when she joined Prince William on a visit to the Assyakirin Mosque in Kuala Lumpur, as part of the couple's nine day Asia-Pacific tour.
The Duke and Duchess of Cambridge, undeterred by the scandalous publication of compromising photographs of the two of them on a private holiday, began the day with a visit to the biggest mosque in the country. This is the first time either member of the royal family has visited an Islamic place of worship.
The Duchess of Cambridge is a global fashion icon and the mental travails of recent hours notwithstanding, turned out wonderfully dressed in a pale grey Beulah London dress - the same label she wore in June - for the wedding of close friend Alice St John Webster. As part of the religion's requirements, Kate took of her favourite nude LK Bennett heels and wear a headscarf.
"It is the first time that either the Duke and Duchess have visited a mosque. They were keen to do so as it is an important part of UK culture as well as being the predominant religion here," a royal aid revealed.
Princess Diana and the Headscarf
Kate's appearance brought back memories of her late mother-in-law and her visits to mosques in Egypt and Pakistan. The late Princess of Wales was equally particular about adopting the cultures and honoring the customs of countries she toured and her visit to Egypt in 1992.
Princess Diana, who was ranked by TIME magazine as one of the most influential fashion icons of all time, was described by the publication as making laidback look elegant and transforming the traditional regal look into something altogether more inviting and modern.