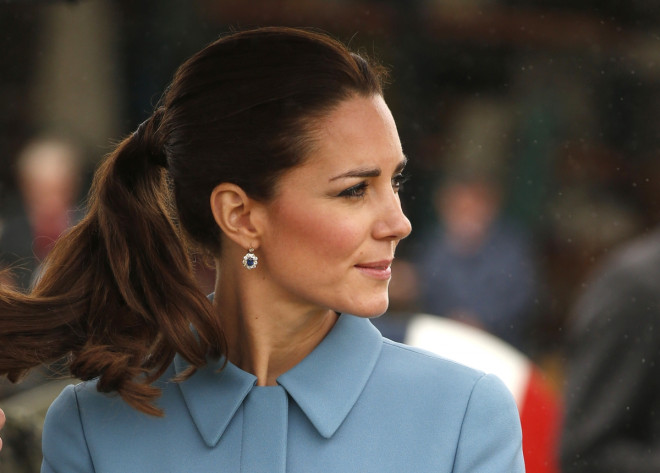 As the royal tour continued for the fourth day, Kate Middleton donned another stunning outfit to embrace her engagement in New Zealand.
The Duke and Duchess of Cambridge visited the town of Blenheim, which is one of the stops on their 19-day royal tour of New Zealand and Australia.
The royal couple laid a wreath at the war memorial in Seymour Square in the town and also visited Omaka Aviation Heritage Center, where they were gifted a flying hat for Prince George.
A cheering crowd gathered to get a glimpse of the new mum but Kate enjoyed talking to little girls and babies.
The Duchess endeared herself to the people of Blenheim in a baby blue military coat dress by her favourite designer, Alexander McQueen.
Her tailored dress with a wide belt and huge pockets featured a peter pan collar, a small slit in the front and pleats at the back that gave Kate a totally royal look.
Kate teamed her dress with navy blue pump heels that she had worn on the previous two occasions in New Zealand, and a matching clutch.
Kate's dress was slightly longer than knee-length complying with reports that she would wear low hemline dresses during the tour.
The 32-year-old did her tresses in a looped ponytail, styled by her personal hairdresser Amanda Cook Tucker.
The Duchess accessorised herself with purple sapphire earrings that matched her engagement ring.
Kate will be seen in over 30 dress changes during the royal tour.
Check out the pictures detailing the third dress of Kate Middleton from her New Zealand and Australia tour below.