Cara Delevingne has often been referred to in the fashion world as a "Kate Moss in the making" but now she has teamed up with the fashion legend herself to collaborate on what could be this year's most risqué campaign.
Delevingne, 22, and Moss, 40, appear in a series of seductive poses for the latest Burberry fragrance campaign, marking the first time the two have worked together.
The pair sport tousled hair and nude makeup while wearing the brand's famous trench coat.
The shoot was shot by world-renowned fashion photographer Mario Testino and Delevingne says it didn't feel like any ordinary shoot.
"When I was on set with Kate and Mario for the My Burberry campaign, it felt like we were making something special. It's so exciting to see it come to life now" Delevingne said.
Despite being one of the fashion industry's most sought-after models, and having worked on shoots around the world, Delevingne summed up the experience of working with Moss as "amazing".
"Although I've known her for a while, I've never seen her at work," Delevingne said. "On set she is just amazing and even more magnetic, everybody watched her. I've always admired Kate."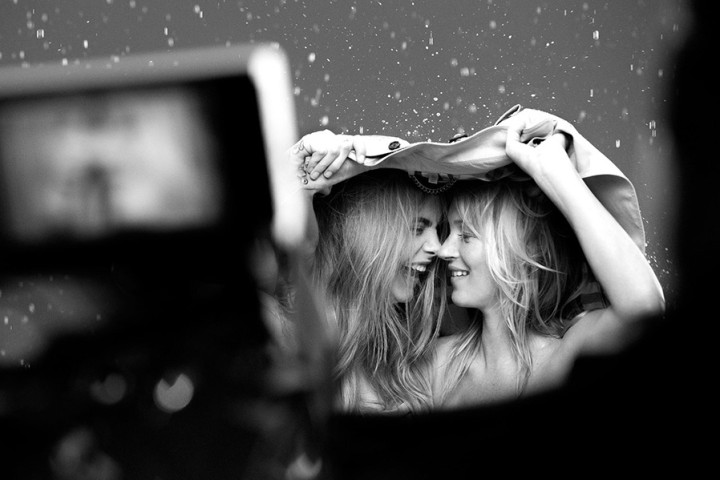 In turn, Moss said the shoot had been relaxed and natural.
"It was such a simple and natural shoot; it was just Cara, me and our trench coats, and it meant we were really able to just relax and have fun on the day - it was a perfect day!"
The campaign also sees the duo appear in a television advertisement featuring the sound track of I Put A Spell On You, performed by Jeff Beck and featuring Joss Stone.
The ad celebrates the launch of My Burberry, the latest woman's fragrance in the brand's perfume collection - directed by the company's chief executive officer Christopher Bailey.
Burberry claims it was trying to bottle the smell of one of the brand's distinctive trenchcoats, and has invited customers to monogram their bottles for no extra charge.