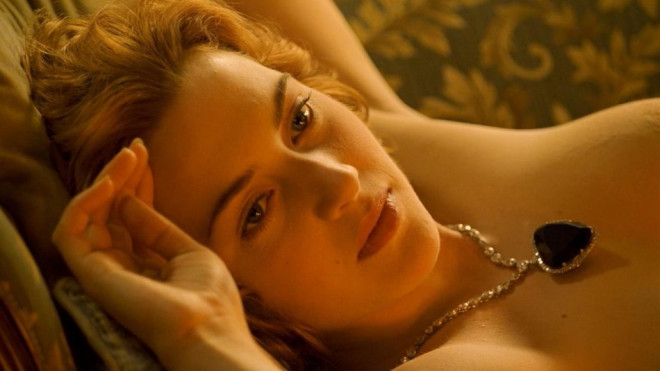 It is one of the most famous scenes in film history and the role that confirmed her status as a Hollywood star but Kate Winslet has admitted she hates THAT naked scene in Titanic.
The flame-haired actress admitted that while many fans treasured the moment that Jack (played by Leonardo DiCaprio) sketches her character Rose wearing nothing but the Heart of the Ocean necklace, it makes her feel 'uncomfortable'.
Speaking to Yahoo! she said the picture still haunts her 17 years on.
"I don't sign that (picture)," she said. "It feels very uncomfortable. Why would you do that? People ask me to sign that a lot."
Her comments come just weeks after a fan presented a copy of the picture to her at the premiere of her new movie Divergent, urging her to autograph it.
In the new dystopian sci-fi film, based on the best-selling novel by Veronica Roth, Winslet plays villian Jeanine Matthews.
The mother-of-three said: "There's a photo of it as well that someone has lifted from a still of the film, and that photo gets passed around too."
"I'm like 'No! I didn't mean for it to be a photograph that I would end up seeing still 17 years later. It's still haunting me"
Divergent is released in the UK on 4 April.