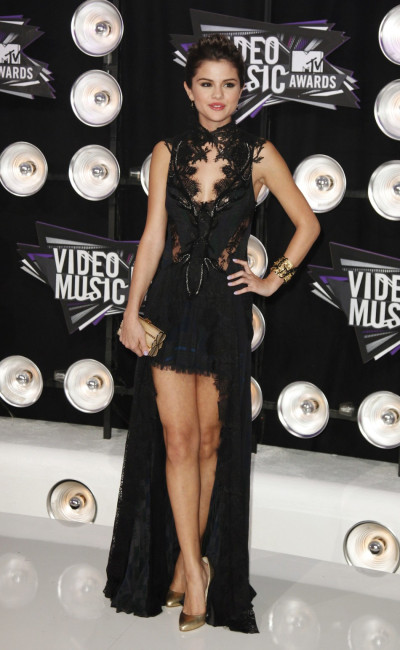 Selena Gomez been announced as the host of The "2011 MTV Europe's Music Awards sponsored by Dell, Replay, Hyundai and Swatch.
The Hollywood actor and singer also been confirmed to compete for a newly added awards titled the "biggest fans" award against her singer boyfriend Justin Bieber.
Gomez commented: "I'm so excited to be the host of the 2011 MTV EMAs - it's a dream come true!" quoted MTV.
News of Gomez's involvement may come as a surprise given her relatively young age, being that she is only 19 years-old, making her the youngest ever host.
The EMA's will for the first time see its host fully integrate into the show across multiple screens, on broadcast TV, on Twitter and online at mtvema.com.
As host of the main show which will be available to a potential viewing audience of more than 1.2 billion, the former Disney star will be overseeing all the onstage antics, performances, winners and unforgettable moments of the evening.
On the digital side, Gomez will be interacting with EMA fans globally throughout the broadcast TV show, from sharing Tweets to going behind-the-scenes for the usually hilarious gossip.
Although fans might be disappointed to learn that Gomez who released her third album "When The Sun Comes Down" in 2011, will not be performing herself at the EMA'S.
"I'm so excited to be the host of the '2011 MTV EMA' - it's a dream come true!" added Gomez. "This is such a huge event that always recognizes the biggest stars in music from across the globe, so it's a real honor to be MC at this year's show."
Other stars who previously hosted the EMA'S were Eva Longoria, Katy Perry and Snoop Dogg.
So far Lady GaGa leads the 2011 MTV EMA nominations with six - including best live act and best song and best video for Born This Way.
Katy Perry, Adele and Bruno Mars also goy nominations, while Justin Bieber is named in three categories.
The 18th Annual MTV EMAs will air live from Belfast's Odyssey Arena on Sunday, 6th November at 9pm GMT.
Viewers can vote for their favourite EMA artists by visiting www.mtvema.com.