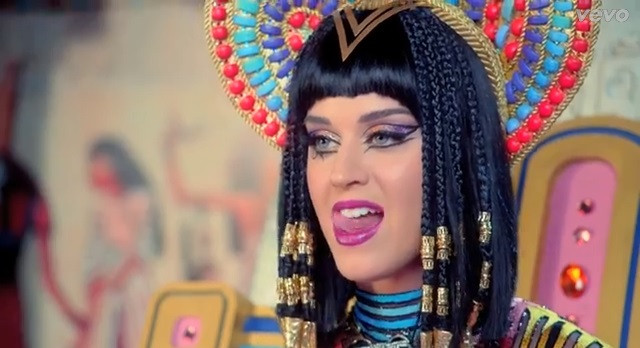 Katy Perry has been accused of blasphemy because her Dark Horse music video shows the singer turning a Muslim into sand.
A petition calling for the clip to be taken down from YouTube claims the American's video has an inflammatory undertone
The video, which has been viewed more than 38 million times, features the I Kissed a Girl singer as an Egyptian queen who incinerates potential suitors, one of whom is wearing a pendant of the word "Allah".
Offended Shazad Iqbal, from Bradford, spotted the apparent transgression and started the petition, which has more than 60,000 signatures.
Explaining his reasons for starting the petition, Iqbal wrote: "At 01:15 into the video Dark Horse a man is shown being burned, whilst wearing a pendant (also burned) forming the word Allah.
"Blasphemy is clearly conveyed in the video, since Katy Perry (who appears to be representing an opposition of God) engulfs the believer and the word God in flames.
"Using the name of God in an irrelevant and distasteful manner would be considered inappropriate by any religion.
"My only request is to all artists in the music industry: You have wealth, fame and success - please do not use the foundations of other religions in a mockery to carry out your fame."
A later post from Iqbal claimed he was not trying to cause controversy, only for the video to be removed.
The petition has attracted signatures from across the world, including Malaysia, Indonesia, Morocco, Lebanon and the United States.
Mohamed Maan, from the Netherlands, added: "I am offended as a Muslim. It shows no respect. You can compare the feeling to someone burning a picture of somebody you love dearly."