She appeared flashy in a shiny spacesuit and landed (apparently) from the moon on the stage of the Video Music Awards in August. But neither the audience nor the celebrities seemed impressed with the weird entry of Katy Perry on stage.
Cut to the MTV EMAs 2017. Rita Ora entered the stage by wearing a white bathrobe and a towel turban. But the bizarre choice of outfit did not overshadow the hostess' radiant beauty. Like Perry, she too dramatically entered the event held at London's SSE Wembley on Sunday,12 November.
But unlike the Roar singer's clumsy entry, Ora was natural as she pretended to enter the stage straight from her dressing room to the wrong lift that elevated her to the stage. "Well I guess this is the lift to the actual show! Clearly am not dressed for the occasion yet. Got in the wrong elevator. Didn't I," she told the cheering audience and kickstarted the show with a bang.
It was not just the entry that impressed the event watchers, but also her enthralling performance to her hit numbers, Your Song and Anywhere. The 26-year-old British singer's hosting and performance skills left audiences in awe and many took to social media to praise her.
"She smashed her performance and smashed hosting best night ever thank you Rita," one Twitter user said. "I'm absolutely speechless @RitaOra . Can't tell you how proud I am of you hosting #MTVEMA tonight! You did sooooo great," added another.
The Body On Me singer gave an electrifying performance of her hit number Your Song wearing a black bodysuit making her fans groove.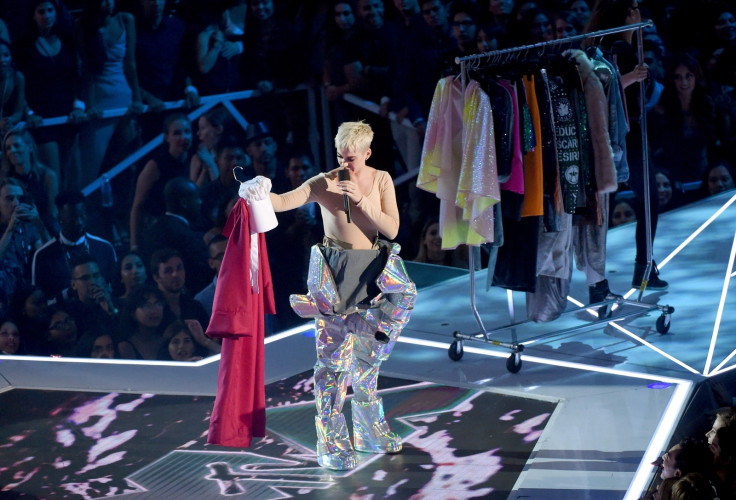 In contrast, at the August event Perry failed to pull off her nude bodysuit as she tried to change from her spacesuit to an evening outfit with a lame "My pee bag is kind of full," joke. Both the ladies changed their outfits multiple times. While Ora (13 outfit changes) won accolades for pulling off each of her dresses as she oozed style and glamour successfully, the 33-year-old pop star struggled to carry off few of her outfits for the event in August.