Rita Ora is hosting this year's 24th annual MTV EMA Awards and is leaving no stone unturned to promote the event on social media. As the musical award night comes closer, she set temperatures soaring after sharing a couple of racy images with her 12 million-plus followers on Instagram.
On Saturday, 11 November, the songstress sent her fans into a bit of a tizzy after she posted two images wearing nothing but a white dressing gown. The Fifty Shades Of Grey actress looked stunning in the black and white snaps that were clicked by photographer Kaj Jefferies.
"1 Day to go!! @mtvema Oh and my excitement for still being num1 on iTunes," the glowing British singer captioned the image, which has since garnered over 200,000 likes.
Fans of the singer are in awe of her "amazing beauty" and flooded her saucy photos with heaps of praise. "You are such a gorgeous babe," one of her followers commented, while another asked, "How can a woman be so hot?"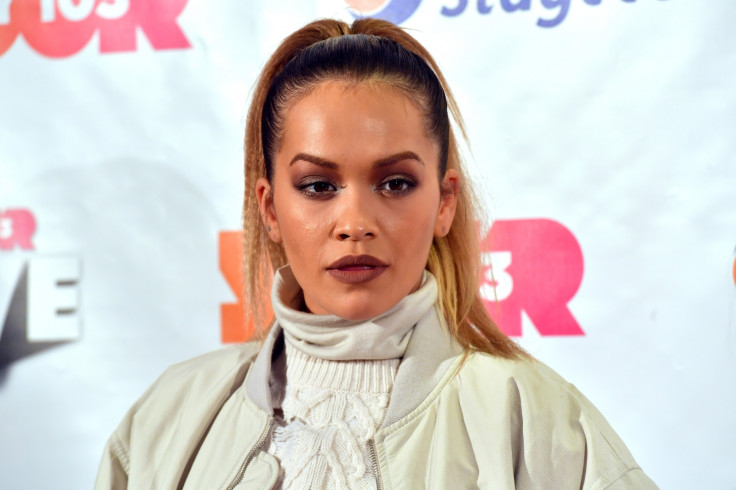 The 26-year-old said she is "excited" to host the music awards night on home turf – this year, the European Music Awards show is taking place in London on Sunday, 12 November.
"I'm so excited to be hosting this year's MTV EMAs in my hometown. I still remember how much fun my first EMAs were in Frankfurt in 2012, when I performed RIP. I can't wait to get back on the stage to host and perform," she told Hollywood Reporter about her much-awaited hosting gig.
At a time where awards shows are loaded with political sarcasm, the Your Song hitmaker said she wants to bring plenty of positivity and hope through the event. "We plan to bring a form of spirit and hope into a music awards show, especially being in London. There are a lot of things that have happened this year, and it's really important to just be proud of where you are from," Ora added.
The singer has kept her fans guessing about her upcoming on-stage performance but teased that her latest song Anywhere will be featured. "I actually have no idea what I'm saying. My voice was just chopped up, so I actually am not saying anything. So, you guys can make it up," she said.
"But we can say that I'm saying, like, take me 'anywhere' you wanna be, maybe we can do that," she told Entertainment Tonight.