A political activist in Kazakhstan, who has been jailed on charges that human rights groups have condemned as being trumped up because of his opposition to the country's president, has been released after he issued an apology. Serikzhan Mambetalin was convicted along with Yermek Narymbayev over posts they made on Facebook.
They were arrested in October 2015 over the posts that authorities had claimed contained signs of "inciting national discord and offended the honour and dignity of the Kazakh nation". Mambetalin was freed yesterday (31 January 2016) after serving just over a week of his two-year sentence, Eurasianet.org has reported. Narymbayev remains in prison serving a three-year sentence.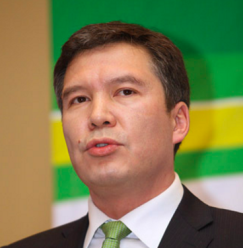 Membetalin said he had taken to Facebook because, "our opposition parties have been closed down, our independent media outlets have been shut, and protests and demonstrations have been banned".
Mambetalin was released pending an appeal and came after he posted statement of repentance on his Facebook page on 29 January, which read: "The investigation gathered exhaustive evidence of my guilt. Therefore I fully admit my guilt over the proof presented to me and actively repent."
In January, human rights campaigners in Kazakhstan called for the abolition of legislation frequently used against critics of President Nursultan Nazarbayev.
Human Rights Watch Central Asia director Hugh Williamson said in a statement that Kazakh authorities should stop targeting critical voices with charges of incitement, saying that they should "remove it from the books and start respecting basic rights to freedom of expression and opinion".
It comes amid what is seen as concern within the government as an economic crisis threatens to envelop the Central Asian country, which is suffering due to faltering global energy prices. President Nursultan Nazarbayev has called a snap parliamentary election for 20 March, a move he said was aimed at consolidating the nation as the country battles an economic crisis. Despite the tight lid on dissent in Kazakhstan, there are signs of rumbling discontent.
On 20 January, debtors held a protest outside a bank in the commercial capital of Almaty as Kazakhstan's collapsing currency caused the value of their dollar-denominated debts to rocket, Eurasianet.org reported.