Keir Starmer: Labour's seat split over Brexit is a 'huge strength' for the party
Starmer says his party can unite the the UK by representing both Leave and Remain constituencies.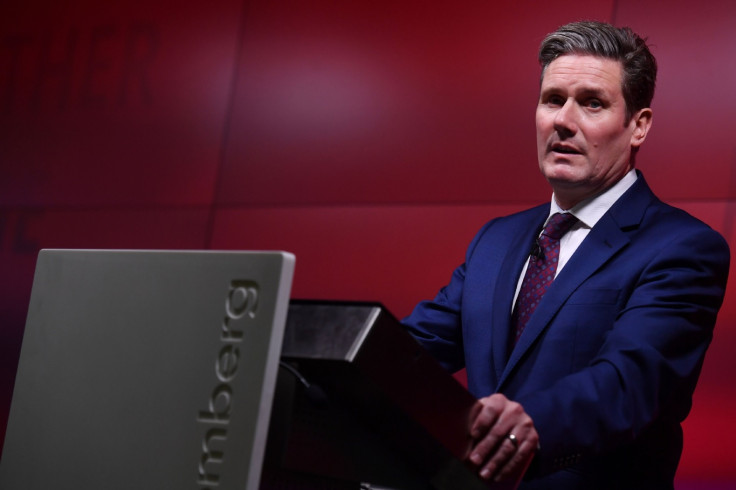 It is a "huge strength" for Labour that the party's MPs represent both Remain and Leave seats across the UK, according to Sir Keir Starmer.
The shadow Brexit secretary made the claim after he was challenged on party unity following a speech in central London on Tuesday (13 December).
"We have MPs who represent heavily Remain-voting areas and we have MPs who represent heavily Leave-voting areas. That is the make-up of the Labour Party," he said.
"That is nothing to do with the leader of the Labour Party and it's certainly nothing to do with the left-right split.
"It is a fact of life when you have a party that is capable of bridging both sides.
"Of course, that makes like more difficult in some respects – I accept that – but it's also a huge strength. If you want a party that is capable of bringing the country back together you need that."
The EU referendum was counted by local authority area, rather than Westminster constituency boundaries, but the University of East Anglia's Chris Hanretty has estimated around 70% of Labour held seats backed a Brexit on 23 June.
The party and a vast majority of its MPs, however, unsuccessfully campaigned for a Remain vote.
Shadow Chancellor John McDonnell said Labour would not block the UK's exit from the EU because such a move would put the party on the side of "corporate elites".
But Starmer said the party would table an amendment to any Article 50 bill if the government does not offer a "meaningful" plan.
"Anyone who thinks that the government has been handed a blank cheque is very much mistaken," he added.
His warning came after MPs overwhelmingly voted 448 to 75 to trigger Article 50 by the end of March 2017, in line with Theresa May's timetable.
But the motion also saw the government promising to unveil a "plan" of its Brexit strategy before making the Article 50 move.
Elsewhere, Starmer attacked May and her ministers for "clinging to the discredited" net migration target of "tens of thousands", while calling for the "reasonable" management of immigration.
"If Brexit forces us to confront the appalling and enduring skills gap in the UK, that is a good thing," he said.
"If Brexit forces us to confront low pay exploitation that is also a good thing. But the status quo is not an option."
The remarks come just days after Labour's Shadow Home Secretary Diane Abbott said it would be "misleading" for the party to "dump" its support for free movement.
"My experience is that Labour party members all over the country want immigration rules that are fair and they want reasonable management of migration. I've been all over the country and that's what I've found," she told BBC One's Andrew Marr show.
Liberal Democrat leader Tim Farron, reacting to Starmer's speech, said: "[He] may as well have been giving a speech as a government spokesperson, his position has become indistinguishable from May's
"Labour and the Tories are now holding hands on the path to Brexit.
"Only the Liberal Democrats are providing a real opposition to the Conservative Brexit government and striving to keep Britain open, tolerant and united."
© Copyright IBTimes 2023. All rights reserved.