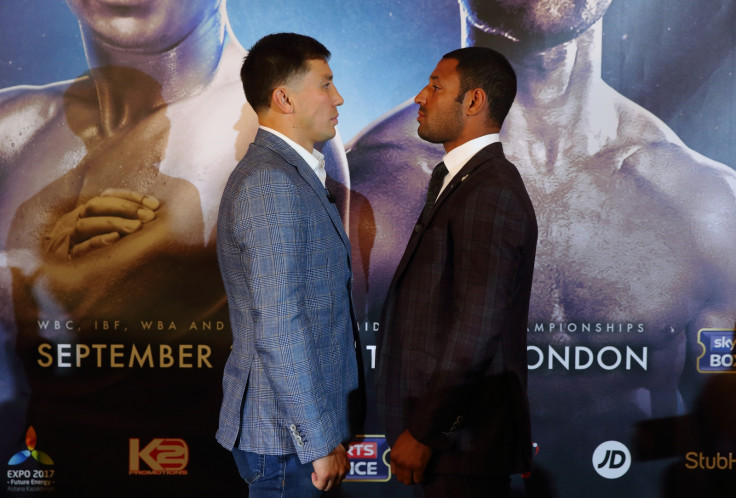 Kell Brook has admitted he fears Gennady Golovkin ahead of their much-anticipated clash at London's O2 Arena on 10 September. The unbeaten Briton is stepping up two weight divisions to face the WBA (Super), WBC, IBF and IBO middleweight champion – and Brook conceded he is anxious about the challenge.
However, the 30-year-old star insisted he will use his fear of Golovkin to boost his performance. Despite the size differential between the two, Brook claimed his win-at-all-costs-mentality will decide the outcome of the bout.
Asked if he fears the pre-fight favourite, Brook told IBTimes UK: "Of course. You wouldn't be human if you don't fear him, but you need that fear, you need that nervousness. You need everything, a mixture of those feelings coming into this fight.
"Once you put those feelings into me, you're going to see someone who is very sharp, very on the ball. I'm not going to be taking my eye off the ball at all in this fight. You know, if you do, you're going to get hurt and I can't let that happen."
Golovkin, 34, is among the hardest-punching fighters in the game and boasts 32 knockouts from 35 professional bouts. But Brook does not think Triple G's power will prove to be significant.
"It's going to come down to the mind. It's not going to come down to the power," Brook asserted at press conference at The Dorchester in London. "It's going to come down to the mind, using the feet and the hands. Using the body, the head... using the ring. It'll be poetry in motion."
The Sheffield-born star also claimed to be unlike any opponent Golovkin has previously faced and is confident of becoming the first man to defeat the Kazakhstani. "He's never fought anybody like me," Brook said.
"He's going to find out real quick in this fight that he's in with someone who's got venom in his hands. He's going to think twice about marching forward. Everybody he has fought, I would beat."