Amir Khan has once again launched a stinging verbal attack on Kell Brook by claiming that the undefeated Brit is a 'nobody' and that he has no intention of giving him a payday.
Brook missed out on his opportunity to win a first world title after injury forced him to withdraw from his scheduled bout with IBF champion Devon Alexander. The American will now face Lee Purdy while Matchroom announced that Brook would return to action on 13 July in a rematch against Carson Jones in Hull.
The 27 year old will hope to gain a more one-sided victory over Jones and put himself back in contention for a welterweight title. He has continually called out Khan and there is a genuine possibility a bout could be made in the future after the Bolton fighter was handed the number two ranking by the WBC in the 147lb division.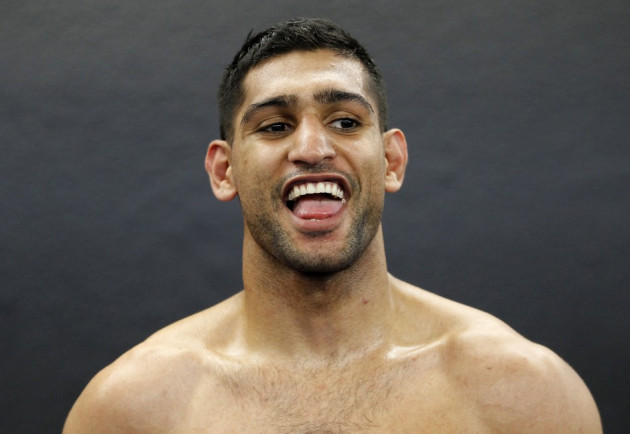 The two have exchanged heated words on a number of occasions and despite plenty of interest from fans, it seems Khan has no intention of facing the Sheffield fighter.
"A lot of people want to see me fight Brook but when we put that fight to HBO and [later] Showtime, they weren't interested. So if they're not interested, I'm not interested," Khan told ESPN.
"I don't want to give him that payday. He talks so much crap. I might never give him the opportunity to fight me. He's not worth it. It's a waste of time and it has gone further than personal. I don't even want to beat him up now. I just don't even want to step in the ring with him because I don't gain anything from it and I don't want to fill his pockets.
"If he wants to do it for free, fine. I'll beat him up and he doesn't have to get paid. But I got my own path and my own goals and I don't need to be wasting my time with him. He hasn't even accomplished anything. All he does is irritate me.
"He's a fellow countryman and keeps dissing me and has never shown me and support or respect. All he had to do is say, 'Amir Khan, he's a good fighter,' and maybe we can fight someday. His promoter, Eddie Hearn, is OK. I have no problem with Eddie but Kell Brook, all he does it talk bad about me.
"If he was respectful, maybe it could happen. But he just says nasty stuff. It's like he's desperate for the fight and the payday. He's just looking for the big payday I would bring him and I won't give it to him."
Khan is hoping he will soon have the opportunity to unify the light-welterweight division as he is scheduled to face the winner of a mini tournament currently being held in the United States.
Lamont Peterson faces Lucas Matthyse on Saturday night in Atlantic City, with the winner scheduled to face Danny Garcia. The eventual victor of that fight would then face Khan with the WBA, WBC and IBF titles all up for grabs.
While Khan is targeting unification bouts, Brook will hope that he can once again overcome Jones and maintain his position as mandatory challenger for the IBF welterweight title.